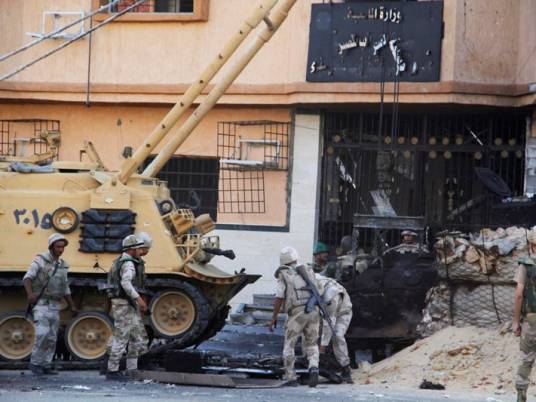 Ten leaders of Ansar Bayt al-Maqdis, a terrorist organization group escaped from Sinai to Gaza and Marsa Matrouh, after military and police troops imposed a crackdown on them, security sources said.
Armed elements fled to Gaza with the help of tribesmen, who knew their way through the desert, after military troops followed and killed some of them, the sources added. Some are accused of exploding gas pipelines, kidnapping soldiers in 2012 and killing others in Rafah.
Armed forces were able to clamp down on the members especially in the eastern area and convinced some tribesmen to cooperate with them in the fight against the armed militants. Dozens of suspects involved in terrorist actions against military and police have been arrested.
Senior source from North Sinai security department said he has received anonymous death threats on his private phone if he continues to follow terrorists. He added that clearing Sinai from terrorism has become 'imminent.'
Construction works of a fence around Arish Airport have begun to confront terrorist attacks after being the target of missile attacks.
Meanwhile, Military Spokesperson Ahmed Mohamed Ali said confidence and support by people to the armed forces are the strongest spiritual weapon for soldiers and officers of the military. During his visit to elements securing the Suez Canal, Ali addressed the world saying, "Egypt is safe."
Egypt opened the Rafah border crossing on Saturday for patients and humanitarian cases.
Edited translation from Al-Masry Al-Youm