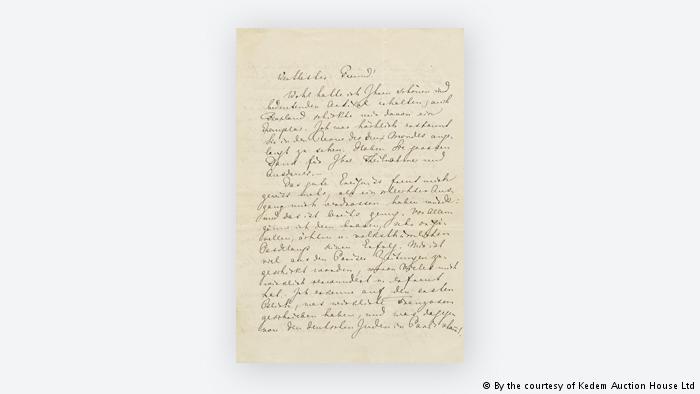 A letter written by 19th-century German composer Richard Wagner in which he rails against Jewish culture will go up for sale at an Israeli auction house on Tuesday.
The handwritten letter was sent to French author, philosopher and musicologist Edouard Schure. In the letter he details his anti-Semitic views on French and German Jews. He tries to explain the thoughts behind his notorious "Judaism in Music." Written under a pseudonym, the essay is an aggressive attack on Jews in general and on the Jewish composers Giacomo Meyerbeer and Felix Mendelssohn in particular.
"We have not been confronted by controversy regarding this item," a representative of the auction house wrote in a statement responding to questions from DW. "An interesting facet of the auction of this letter is its attraction to collectors of anti-Semitic material on the one hand and to collectors of items related to Richard Wagner on the other hand," he added.
'True' Germans
In the letter Wagner argues that the assimilation of Jews into French society was preventing France from distinguishing the "corroding influence of the Jewish spirit on modern culture."
He goes on to discuss the differences between German Jews and "true" Germans and alleged that the national press was entirely in Jewish hands.
It is listed with a price guide of $8,000 to $12,000 (€6,500-9,800).
Roll over, Wagner
The owner of Kedem auction house, Meron Eren, told the AFP news agency that this was the first time he was dealing with a Wagner item.
"Wagner would roll over in his grave" if he knew that a bearded Jew in Jerusalem was going to profit from his letter, Eren said.
Ruth HaCohen, a musicology professor at Hebrew University, told AFP that the letter showed how Wagner wanted his anti-Semitic views to be accepted by the public.
He said its sale in Jerusalem, of all places, was an "irony."
Read more: Richard Wagner and the Jews
A symbol of the Holocaust
Jonathan Livny, an attorney and head of the Israel Wagner Society, told the AFP that although Israelis embrace German products such as Volkswagen and Mercedes cars, they continue to boycott Wagner.
"Wagner has become a "symbol of the Holocaust," Livny said.
The works of Wagner, Hitler's favorite composer, are rarely performed in Israel due to public outcry and disturbances.