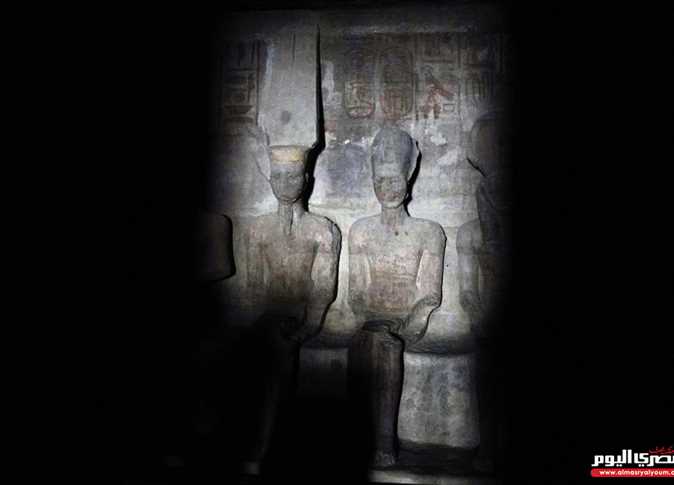 Egypt's Antiquities Ministry announced on Saturday that it has invited a large number of foreign ambassadors in Egypt, ministers and public figures to participate in the celebration of a sun alignment on the temple of King Ramses II in Abu Simbel, on October 22.
The celebration includes a special visit to Abu Simbel's temple, a sound and light show, a special dinner on the shores of Lake Nasser in front of the Abu Simbel temple, another show by the Culture Ministry on Sunday, and on Monday dawn attendance of the sun alignment at the temple, which coincides with the 50th anniversary of the rescue and transfer of the Abu Simbel temples on September 22, 1968.
The antiquities Ministry organized this event in cooperation with a private sector company sponsoring the activity.
Antiquities Minister Khaled al-Anany said that he is always keen on inviting ambassadors of different countries who are friends to Antiquities Ministry to attend all the activities organized by the Ministry, who are willing to be present in events and archaeological activities that show the world Egypt's rich and ancient history.
This year saw the participation of a large number of ambassadors and cultural consultants from around the world in Egypt for number of archaeological events, the most recently of which was the opening of a cemetery in Saqqara.
Sunlight illuminates seated statues of the sun gods Re-Horakhte and Amon-Re, as well as a statue of king Ramses II twice a year; on February 22, a day celebrating the king's birthday and again on October 22, a day celebrating his coronation.
The statues sit in the company of the Theban god of darkness, Ptah, who remains in shadow all year.
Edited translation from Al-Masry Al-Youm