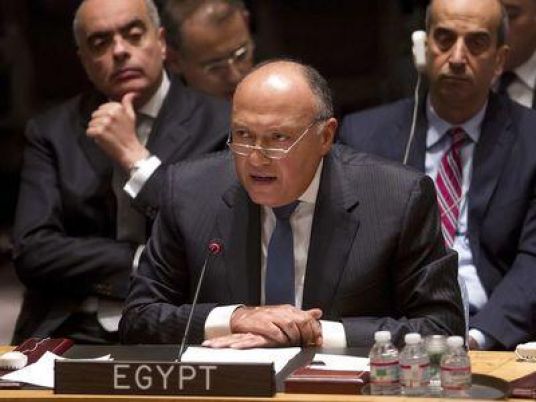 The foreign ministers of Egypt, Saudi Arabia, the United Arab Emirates and Bahrain will discuss recent developments of the Qatar crisis in Manama on Saturday
Egypt's Foreign Ministry said that the two-day meeting reflects the commitment of the four countries to coordinate in order to receive their demands from the State of Qatar, assess the latest developments in the situation and halt Qatar's funding of terrorism along with its negative interference in the internal affairs of the four countries.
Foreign Minister Sameh Shoukri's participation in the Arab quartet meeting was agreed upon by the four foreign ministers, during their meeting in Cairo on July 5. Their next consultative meeting is to be held in the Kingdom of Bahrain at the end of July, Egypt's Foreign Ministry Spokesman Ahmed Abu Zeid said.
The Qatari Foreign Minister, Mohammed bin Abdulrahman Al-Thani, accused the Arab states of violating international law in their boycott of the country.
After meeting UN Secretary-General Antonio Guterres on Thursday, he described the United Nations as the "right place" for Doha to seek options to overcome measures imposed against it.
The UAE ambassador to the United Nations, Lana Nusseibeh, said the measures taken were fully legal, justified and proportionate, and accused Qatar of gross violations.
In a related news, the US Senate Foreign Relations Subcommittee on Thursday, criticized the policies of Qatar in its support of terrorism. US lawmakers called upon Doha to modify its behavior, and stressed that Doha faces the risk of al-Udeid US military withdrawing its base from the territory.
The director of the Foundation for the Defense of Democracies, Jonathan Schanzer, said that it appeared that Qatar supports the Taliban movement and extremists in Syria, Libya and the Muslim Brotherhood.
While the House of Representatives Foreign Affairs Committee Chair Ileana Ros-Lehtinen said that "a senior Qatari official supported the mastermind behind the September 11 attacks, Khalid Sheikh Mohammed."
Edited Translation from Al-Masry Al-Youm