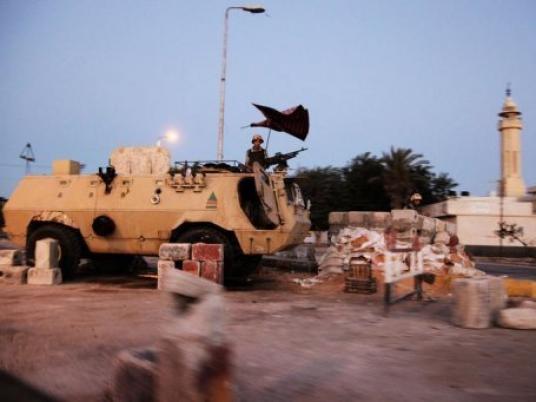 A high-level military source said Wednesday that the Armed Forces, in cooperation with the police, adopted a new strategy in the security crackdown in North Sinai.
He added that Operation Eagle has started to pay off and achieve its security objectives.
The source said, on condition of anonymity, that the new strategy depends on using light arms instead of heavy military vehicles.
Eyewitnesses reported last week that the tanks participating in Operation Eagle withdrew from Sinai. Reuters quoted a security source as saying that the tanks would be replaced with armored vehicles.
The Armed Forces launched Operation Eagle in North Sinai to confront militants who authorities believe were responsible for killing 16 soldiers in an attack on a border checkpoint in August.
The source told Al-Masry Al-Youm that the Army and police arrested dozens of people allegedly involved in various incidents, as well as people who possessed firearms without license.
The source expressed his frustration that the majority of residents have not handed their arms over to the Ministry of Interior for licensing. He appealed to the people of Sinai to hand over their weapons to be licensed in order not to be convicted if arrested.
The delay in announcing the names of the accused in the checkpoint attack was due to the expansion of investigations to include new suspects, the source explained. He said the new suspects were identified during a detained suspect's confession at the Ismailia military prosecution.
A number of Sinai tribal chiefs said that smuggling through Gaza tunnels was going on as normal, and that Egyptian security forces' process of filling the tunnels did not have a significant effect on smuggling.
Edited translation from Al-Masry Al-Youm