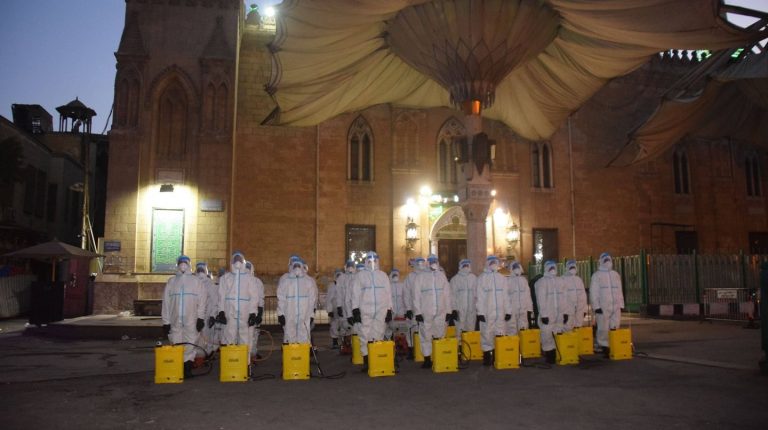 The official website of the Egyptian Ministry of Defense on Tuesday published a video clip showing its armed forces cleansing and sterilizing major mosques during the month of Ramadan.
According to the video, the armed forces are supporting state agencies to minimize the spread of coronavirus through specialized units that are disinfecting and sterilizing areas frequently visited by citizens during the holy month.
Disinfection and sterilization vehicles as well as portable disinfection kits were used in the cleaning of major mosques that tend to witness a high turnout of worshipers during Ramadan, such as the al-Fateh Mosque in Ramses, the al-Nour Mosque in al-Abbasiya, the Omar Makram Mosque in Tahrir Square, the al-Khazindar Mosque in Shubra, the al-Sayyeda Nafeesa, al-Sayyeda Zainab, and the al-Sayyeda Aisha mosques.
The disinfection process included cleaning the entrances, floors, and walls of the mosques with strong sanitizing chemicals.
Despite a significant climb in coronavirus cases, Ramadan in Egypt has witnessed a large number of gatherings that appear to ignore precautionary measures against the virus.
Government officials have urged the public to take caution against the virus and expect a large spike in cases either during or after the holy month, which began on April 13.
Egypt's Health Ministry on Monday announced 991 new cases and 58 deaths. The country has now reported a total of 224,514 cases, 13,107 deaths, and 167,900 recovered cases.