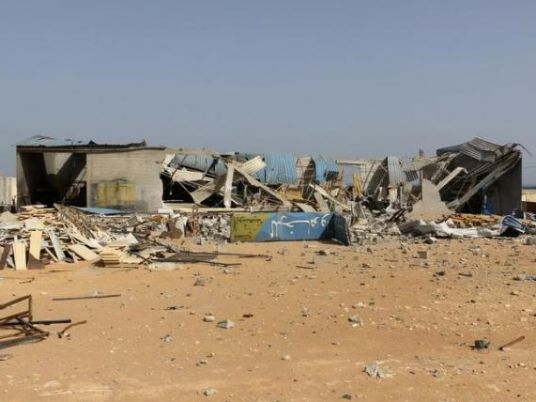 Armed groups took control on Wednesday of the Libyan town of Ben Jawad, close to some of Libya's major oil ports, as forces loyal to the eastern government, that seized the coastal terminals in September, defended them from the air, officials said.
Miftah Magariaf, head of the Petrol Facilities Guard in the area, said "terrorist groups" had launched rocket attacks as ground forces advanced but the oil fields had not been affected.
But the attacks may herald an escalation of the fight for control of the oil ports and for overall power between Libya's many armed factions, which have been at war since a 2011 uprising.
One eastern security official said the groups approaching Libya's Oil Crescent ports were linked to the Benghazi Defence Brigades, which tried this year to launch a counter-attack against forces loyal to eastern Libyan commander Khalifa Haftar.
Some of the armed groups' vehicles had been destroyed in air strikes south of the oil port of Es Sider, security sources said. Ben Jawad lies about 30 km (19 miles) west of Es Sider.
Rajab al-Zwai, an engineer at Es Sider, said some oil workers had been evacuated and fighter jets could be heard overhead. Es Sider is still closed as oil workers carry out repairs to damage from previous fighting.
A resident in the nearby port of Ras Lanuf also said jets could be heard and reported a security alert, but said the area was otherwise calm.
Haftar's forces seized control of four Oil Crescent ports from a rival faction three months ago, allowing Libya's National Oil Corporation (NOC) to end blockades at three of the ports and double oil production to about 600,000 barrels per day (bpd).
Output remains far below the 1.6 million bpd that the OPEC member was producing before the uprising that toppled long-time leader Muammar Gaddafi five years ago.
Ben Jawad lies 150 km southeast of Sirte, where forces led by brigades from the city of Misrata secured the final buildings held by Islamic State on Tuesday after a military campaign against the jihadist group lasting nearly seven months.
There have been rumors in recent weeks about a possible counter-attack against the oil ports by forces including the faction that was ousted in September, Islamist-leaning brigades with support from Misrata, and a Haftar rival who was named as defence minister by a U.N.-backed government in Tripoli.