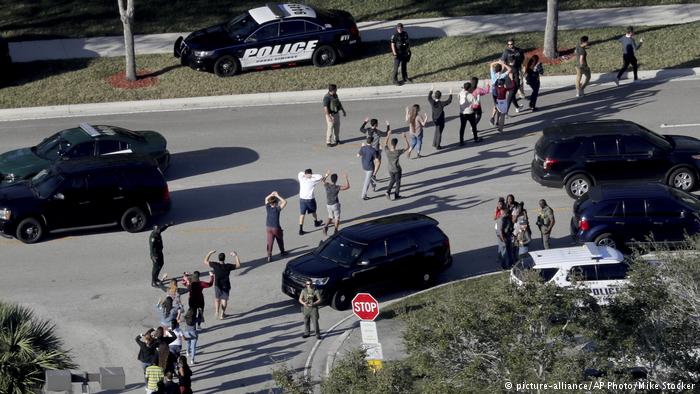 Officer Scott Peterson waited four minutes outside the high school building after the shooting started. Seventeen people were killed in the six-minute ordeal at Marjory Stoneman Douglas High School on February 14.
The armed police officer who stood outside a Florida high school while a gunman shot and killed 17 people resigned on Thursday and has been placed under investigation.
The resignation came amid a national debate in the United States about how to prevent future school shootings. The country's powerful pro-gun lobby and some Republican lawmakers, including US President Donald Trump, have suggested arming school officials as a solution.
Failure to respond:
Broward County Sheriff Scott Israel said on Thursday that the school resource officer, Scott Peterson, took up a position near the school entrance some 90 seconds after the shooting started. Peterson waited for more than four minutes in the same position without entering the building. The shooting lasted about six minutes.
Peterson resigned after Israel had suspended him and placed him under investigation. Asked by a reporter what Peterson should have done, Israel said: "Went in. Addressed the killer. Killed the killer."
Israel said he was "devastated" after reviewing security video recordings of Peterson waiting outside the building. "I mean these families lost their children," he said, adding: "I've been to the homes where they sit and shiver."
Why this matters: The February 14 shooting at Marjory Stoneman Douglas High School has reignited US debates about gun control. Student protestors and Democrats have called for stricter rules to prevent future tragedies. But the National Rifle Association (NRA) and many Republicans have resisted those calls. They have suggested placing armed officials in schools.
Release of tapes: Israel said he would not immediately release the security recordings of the shooting. He said he may do so in the future "depending on the prosecution" against shooter Nikolas Cruz. Cruz, a 19-year-old former student, is facing 17 counts of premeditated murder.