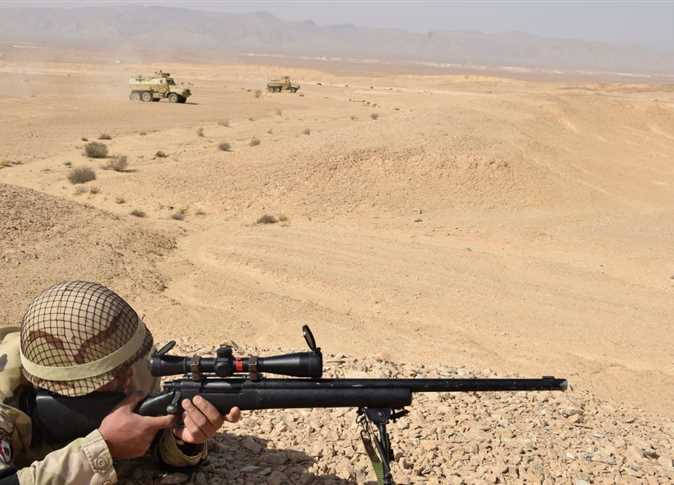 The statement began by declaring that the operation, carried out by the army, the special forces, and the police, is still in progress. It explained that anti-terrorism forces continue to attack terrorist hubs in central and North Sinai, in conjunction with airstrikes and intense bombing campaigns targeting militant hideouts and sites used for weaponry and ammunitions storage.
The air forces successfully located and destroyed 60 terrorist targets after garnering information, while 12 militants were killed in a battle with the firing squad. Moreover, weaponry and ammunition have been seized, and 92 wanted people were arrested.
Security forces also succeeded in capturing 20 cars used by terrorist groups, which have aided them in their mission of spreading terror. 27 motorcycles were also destroyed, as well as 30 hubs and a site storing chemicals. The chemicals had been used to create explosives, radio devices, and drugs. Elsewhere they discovered and destroyed seven marijuana farms and over half a ton of drugs.
The specialized forces of military engineers also discovered 23 explosives planted on the operation scene, and conducted controlled explosions to neutralize them.
Meanwhile, forces located 13 underground hideouts which stored radioactive material, motorcycle material, and materials for creating explosives. In addition to this, they found and destroyed a 250-meter-long and 2-meter-wide tunnel, and a store used for dismantling stolen cars.
The air force managed to stop an attempt to smuggle weapons and ammunition in the strategic western area by targeting and destroying four cars loaded with weapons, killing the terrorists responsible for smuggling.
Meanwhile, the marines tightened their grip on the coastal area.
Finally, combat factions of the police and army continue to organize 398 patrolling forces and security hubs all over the country.
Five statements have been released so far by the military providing a constant update on the major counter-terrorist operation in Sinai.
The 'Comprehensive Operation Sinai 2018' was launched by different branches of the army, including the Second and Third Field Armies located in Sinai, in response to the increasing terrorist threat in North Sinai.
An army source who preferred to remain anonymous told Egypt Independent on Sunday that "the number of forces that are participating in the 'Comprehensive Operation Sinai 2018′ reached 35,000 [army personnel] with the support of Egypt's Special Forces and police."
The source added that "the operation aims to eliminate the presence of the Islamic State-affiliated (IS) group Sinai Province. The widespread [distribution] of the Egyptian Armed Forces in the Sinai will leave no presence to a single militant."
Since 2014, North Sinai has witnessed a growing number of terrorist attacks carried out by IS and its affiliated group the Sinai Province, including various attacks against the army and the police.
North Sinai-based state security has carried out large-scale security sweeps and military operations in response.