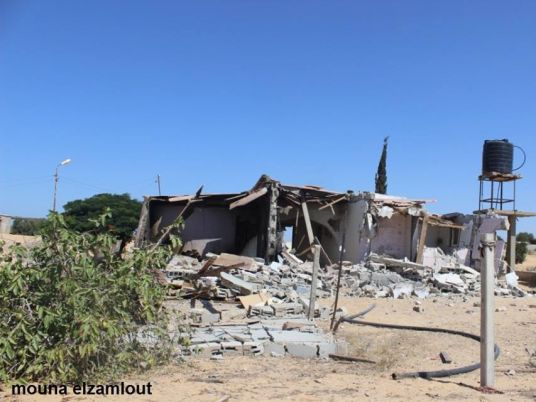 Armed Forces spokesperson Ahmed Ali wrote on his Facebook account that the Second Field Army forces raided on Wednesday 19 February a number of terrorist hotbeds in the cities of Be'r al-Abd, Aris and Rafah.
The raid resulted in the death of six militants allegedly belonging to the Muslim Brotherhood after an exchange of fire with security forces in al-Lofaytat village, Ali wrote.
Ten suspects were arrested and 12 huts belonging to extremists and used as missile launching pads were burned, he added.
Three tunnels at al-Sarsoureya area were destroyed, and a hose for smuggling fuel to Gaza Strip, Ali said.
Though army personnel have claimed all houses and property destroyed in the Sinai have been targeted, many Sinai residents say the military operations are random and many innocent people are harmed in the process. Residents said whole neighborhoods were burned to the ground as a means of collective punishment.
Ibrahim Menai, head of the Sinai Sheikhs Union, told Egypt Independent that the army is running a "scorched earth" campaign in Sinai. He alleges his house was destroyed in November by the armed forces in retaliation for speaking to media.
Edited translation from Al-Masry Al-Youm