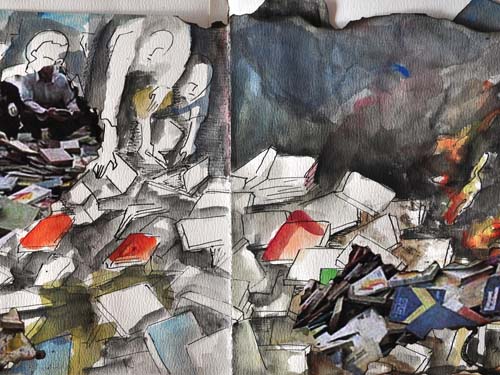 Baghdad's Al-Mutanabbi Street is perhaps the longest-lived book-selling neighborhood in the world. According to scholar Muhsin al-Musawi, the current bookshops on Al-Mutanabbi Street exist where, hundreds of years before, there was an Abbasid-era district of scribes' markets and booksellers' stalls.
This area was thriving at least by the time of the historian Ibn Tayfur (819–893). In this spot, books and book lovers were available in abundance until the Mongol invasion of Baghdad in 1258.
The neighborhood eventually reclaimed its place at Baghdad's cultural heart, and a number of important booksellers established shops once more on Al-Mutanabbi Street. Stores began to blossom in the 19th and 20th centuries, when the saying "Cairo writes, Beirut publishes and Baghdad reads" came into vogue.
But things sharply changed for the street in March 2003, when US forces entered Iraq. The street's first major explosion occurred in October 2003, killing a tea seller named Bassem and setting numerous stores on fire.
The life of the street grew narrower and narrower. In his essay "Escape from Al-Mutanabbi Street," bookseller Muhammad al-Hamrani writes about the death squads that "spread into the narrow alleys around Al-Mutanabbi" and how "no one was buying books anymore."
The city's literary culture was further ravaged on 5 March 2007, nearly four years into the US-led occupation, when a car bomb exploded on Al-Mutanabbi Street. It killed at least 30 souls, wounded more than a hundred, and destroyed countless books, hopes and livelihoods. The street was officially opened once again in 2008.
The bombing at Al-Mutanabbi Street particularly shook US-based poet Beau Beausoleil, who began a project called "Al-Mutanabbi Street Starts Here." The project called on artists around the world to respond with handmade letterpress broadsides, art books, and later essays and works of poetry.
The broadsides and books have been collected into a traveling exhibition that will come to the American University in Cairo in March 2014, and will eventually be on permanent display at the Iraqi National Library in Baghdad. The poetry and essays have been collected into the book "Al-Mutanabbi Street Starts Here."
The project began with the letterpress broadsides, Beausoleil said. This led him to the book artists, as he was "struck by how deeply a book artist could move into the interior of an idea and make it visual."
Book-arts researcher Sarah Bodman said art books have a history of responding to events, adding that the books were sometimes "given away in the streets if an artist had something they wanted to say to the public."
A number of the handmade books draw on the long history of Al-Mutanabbi Street. Iraqi-American artist Tania Baban, in her collaboration with American poet Jim Natal, attempts to connect the US invasion and 2007 bombing with the Mongols' 13th-century sacking of Baghdad.
Baban's "Street of the Poet" is cloth-covered and illuminated within with gold ink and calligraphy, evocative of ancient manuscripts. The edges of several pages are burnt, as though these texts had survived a fire.
Natal has written fitting poetry for a time of destruction: "When books become smoke, the words tend to drift. They crumble into vowels and consonants, letters find the upper atmosphere and jetstream global distances, disrupt flight patterns, thought patterns, cover al-alaam."
The book artists came from around the world. In addition to several contributors from the US and UK, there were also book artists from Peru, Iraq, Argentina, Australia, Turkey and elsewhere.
Some of the artists' works give a simplified reading of the bombing, as in "Al-Mutanabbi Street: A Vicious Circle" by Mette Ambeck. Here, there is a circular cutout of buildings and people, all in white with occasional burnt edges, seeming to indicate a closed circle of violence without input or change.
Other artists connect their own experiences and bookselling streets with Al-Mutanabbi. In the three books by Iranian artist Azadeh Fatehrad, titled "Enghelab Avenue," Fatehrad prints large photos from a major bookselling street in Tehran.
But instead of photos of books and readers, Fatehrad uses images of mostly industrial-looking spots that are often dilapidated, rusted or crumbling. The effect is of a loss — books that once existed but are now hidden or overbuilt by a rusty modernity.
One of Fatehrad's photos shows a roof where trash has been stuffed in a corner. From the text on the opposite page: "when we clean the flat we would usually put / them somewhere, to hide them / hide the dirty old things / didn't have a heart to throw them out / but hide them somewhere, / to not seeing them any more / hide them."
The works use a variety of forms: Mike Nicholson's "The Physics of Violence: Part I" looks like a graphic novel, while Pauline Lamont-Fisher's books appear alternately as abstract, red-themed paintings or as blood-soaked bandages.
Lamont-Fisher, a UK-based artist, said that at first she did not want to take part in the Al-Mutanabbi project.
"As time went on I felt the tragedy and significance of the situation more intensely," she says. "I also started to reflect on how sanitized death has become as it is seen so frequently on film and television."
The collection of written work includes dozens of poems and essays in response to the 2007 bombing. There are also earlier works by poetic luminaries such as Saadi Youssef, Etel Adnan, Adrienne Rich, Mahmoud Darwish and Fadhil al-Azzawi.
The poems and essays connect Iraqi, UK, US and other writers around the world. But the result of this cacophony of voices is not that something feels fixed or resolved.
"I always emphasize that this is not a 'healing project,'" Beausoleil said over email. "[H]ow can it be when we don't even understand the wounds that we have left on the literal and metaphorical body of Iraq?"
The following poem by Khaled Mattawa is reprinted with permission from "Al-Mutanabbi Street Starts Here: Poets and Writers Respond to the March 5, 2007 Bombing of Baghdad's Street of Booksellers."
Adolescence of Burnt Hands
Suddenly I found my sorrow among
strange trees, on dusty squares
I thought yes,
yes,
I knew it had come.
I had seen it on men's faces.
But too early, too soon.
I said,
"Sorrow of the distant mother,
Ghosts of schoolyard friends,
Father broken backbone
I am too young to live without anger."
Then everywhere I went
It was the valley of God's absence,
the forest of the cold bosom,
the deserts where children raised children.
And I cradled my flame.
This piece appears in Egypt Independent's weekly print edition.