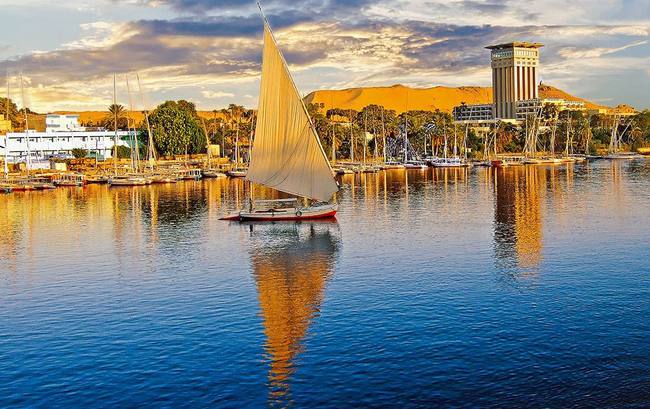 The Egyptian Meteorological Authority (EMA) revealed that temperatures will continue to drop in most parts of Egypt, with the appearance of low clouds and wind activity during the night hours.
Temperatures on Sunday are 32C in Greater Cairo, 30C in Alexandria, 34C in northern Upper Egypt 34C, and 38C southern Upper Egypt.
Hot, humid weather prevails in Greater Cairo, very hot in South Sinai and the south of the country during the day, humid at night over Greater Cairo, and moderate temperatures at night on Greater Cairo, Lower Egypt, the northern coasts and northern Upper Egypt.
The weather expected to be moderately hot and humid during the night hours in southern Upper Egypt and South Sinai.
Winds are active during the night hours on some of the northwestern coasts and South Sinai, which reduces the sense of humidity.
The EMA warned of mist during the morning hours on highways, agricultural roads and those close to water bodies, and roads leading to and from Greater Cairo and the cities of Suez Canal.
It announced that there are five days until the end of summer and the beginning of fall, which will start on Thursday, September 22.
Mohamed Ali Fahim, head of the Climate Change Center, explained the most important changes in the climate coming with autumn:
Temperatures drop during daylight hours and heatwaves will stop with some possible exceptions.
The onset of a cold stinging sensation in the late night or early morning, and an increase in the likelihood of catching a cold.
Significant increase in atmospheric humidity, free humidity and abundant morning dew.
An increase in the temperature difference between day and night.
Mist in the morning in Lower Egypt, especially on highways.
More low and medium clouds and the beginnings of rainfall, especially on the coasts and the delta.
Expected temperatures for Sunday:
North Coast: 30C
Cairo and Lower Egypt: 32C
Northern Upper Egypt: 34C
South Sinai: 34C
Southern Upper Egypt: 38C
Expected temperatures for Monday:
North Coast: 29C
Cairo and Lower Egypt: 31C
Northern Upper Egypt: 33C
South Sinai: 35C
Southern Upper Egypt: 37C
Expected temperatures for Tuesday:
North Coast: 29C
Cairo and Lower Egypt: 31C
Northern Upper Egypt: 33C
South Sinai: 35C
Southern Upper Egypt: 38C
Edited translation from Al-Masry Al-Youm