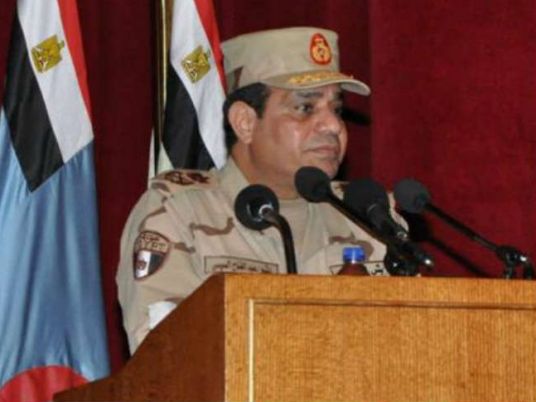 European Union High Representative of the Union for Foreign Affairs and Security Policy Catherine Ashton is awaiting an answer on whether Field Marshal Abdel Fattah al-Sisi, defense minister, will be among candidates of the anticipated presidential elections
In remarks from Brussels, Ashton called on Sisi to declare his stance saying that the EU is mulling the issue of sending European observers to monitor the elections.
Ashton also highlighted the necessity of holding the elections, guaranteeing participation by people and that citizens feel the vote would push the country forward.
Michael Mann, Ashton's spokesperson told Al-Masry Al-Youm that the European Union planned to send the first group of European observers to Egypt by the end of March or beginning of April maximum, although the elections date is still unknown.
Brussels is always keen on expressing commitment toward supporting stability and security in Egypt to achieve sustainable democracy as well as a better life for Egyptians.
EU's foreign council also stressed the necessity of preserving ties between the union and Egypt as well supporting the Egyptian people's desire to establish a democratic society that respects law, basic freedoms and human rights.
In other news, Al-Masry Al-Youm was informed that Sisi is preparing to declare his nomination for presidency within the coming 48 hours, after he finishes arrangements that he was keen on before submitting resignation to the supreme council of armed forces. His last step was concluding his electoral platform that was supervised by the armed forces' engineering department, which was in charge of the details of the major projects including the huge housing project that will be financed by Emirates to offer one million housing units. Another project links between Cairo and the borders of Suez, which will contribute to development of the Suez Canal.
A brief copy, composed of 75 pages, of the platform will be reviewed by the public, while the detailed 300-page copy will remain as a reference of policies in the coming period.
Informed sources told Al-Masry Al-Youm that Sisi will hold an urgent meeting for the supreme council of armed forces before the end of the week to submit his resignation and select the coming defense minister and the chief of staff of the armed forces.
The current Chief of Staff of the Armed Forces Sedqi Sobhy is expected to succeed Sisi in his post as defense minister.
According to constitution, the new defense minister will be approved by the president before the Cabinet is notified.
The sources also added that the door for nomination for presidential elections will be opened next week for specific period of time.
Candidates will have to collect 25,000 endorsements from citizens of 15 governorates at least, which is at least 1,000 citizens from each governorate.
Edited translation from Al-Masry Al-Youm