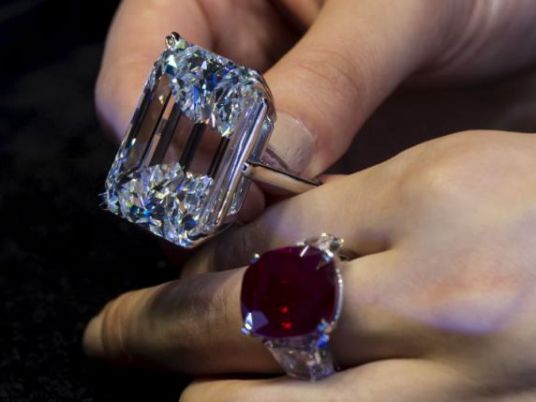 They are not in the room rubbing shoulders with traditional wealthy buyers, instead choosing to remain in the shadows, making their multi-million bids by telephone.
Asian millionaires and billionaires have this week discretely stolen the show at a range of auctions, dishing out record sums for works of art and precious gemstones put on the block.
Auction houses Christie's and Sotheby's say the spectacular sales are part of a wider trend in which their business is increasingly turning towards Asia.
Christie's Asia chief Francois Curiel told AFP that the auction house had quadrupled its Asia-based staff since 2010 to 220 to keep up with the demand.
"When I arrived in Hong Kong in 2010, our Asian clients represented five percent of our sales on a global scale. In 2014, they represented 31 percent," he said.
The same is true of competing auction house Sotheby's, where Asian clients today account for about a third of global high-end jewellery sales, Asian director Patti Wong told AFP.
"Asian participants make up a hugely important part of our global client base," she said, adding that over the past decade "we've seen tremendous growth" from Asia.
This past week, Asian clients have certainly taken center-stage.
The first spectacular hammer blow fell Tuesday evening at a Christie's art auction in New York, when a former Chinese taxi driver turned billionaire financier, Liu Yiqian bought a famed Modigliani nude for more than US$170 million.
The 51-year-old tycoon, who made his fortune in real estate and finance in the 1990s, has made a string of purchases for his two museums in China's commercial hub Shanghai.
'Sweet Josephine'
The same day, Hong Kong property tycoon Joseph Lau dished out $28.5 million for a huge 16.08-carat pink diamond at a Christie's jewel auction in Geneva, and immediately renamed it "Sweet Josephine", after his seven-year-old daughter.
According to the auction house, that marks a world record for a pink diamond in the highest color category, "fancy vivid".
Lau, 64, was not satisfied though.
On Wednesday, he struck again, snapping up a 12.03-carat blue diamond dubbed "Blue Moon" for a record $48.4 million, this time at Sotheby's in Geneva.
David Bennett, head of Sotheby's international jewellery division, said the "Blue Moon" sale broke several records, making the gemstone "the most expensive diamond, regardless of color, and the most expensive jewel ever sold at auction".
The jewel, set in a ring, also fetched the highest-ever price per carat, he said, with the buyer shelling out 4.02 million Swiss francs per carat.
The shimmering blue stone was also immediately renamed after Lau's daughter, and is now called "The Blue Moon of Josephine".
A Hong Kong-based spokeswoman for Lau confirmed the two diamond purchases to AFP.
This is not the first time Lau has bought rare jewels for his daughter. In 2009, he reportedly spent $9.5 million on another blue diamond, which he renamed the "Star of Josephine".
Josephine is his daughter with girlfriend and former aide Chan Hoi-wan, according to local media. The 64-year-old also has two children with long-time partner Yvonne Lui.
Life is not all family bliss for Lau. In March last year, he was found guilty of bribing a former minister in the gambling enclave of Macau in an attempt to purchase a prime development site.
Lau, who was not in Macau for the sentencing, is unlikely to serve time as the two semi-autonomous Chinese cities do not have an extradition agreement.