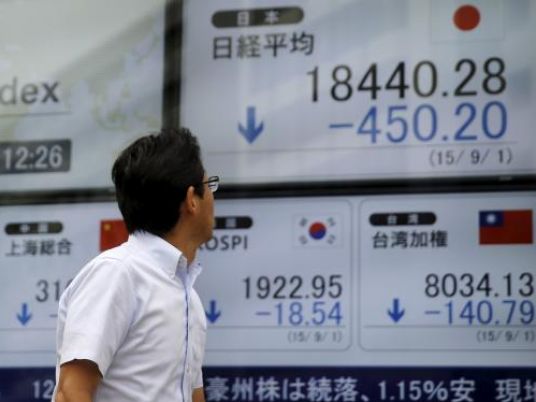 Tokyo's benchmark Nikkei index was on course for its best showing since-mid August on Friday, while traders in Asia were closely watching a US jobs report that could indicate a Fed move on interest rates.
The Nikkei 225 shrugged off a weak lead from US markets to climb higher following a week of gains, led by Japan Post's market debut.
Japan Post is now worth $36 billion more than its government price tag following the biggest initial public offering globally this year, with its insurance unit especially in demand among investors.
The government hopes the Japan Post sell-off will draw more investment to Japanese firms and provide a lift for Prime Minister Shinzo Abe's faltering bid to kick-start the world's number-three economy.
The Hang Seng Index slid downwards in Hong Kong morning trade while Shanghai was almost flat, tracking a lower finish on Wall Street Thursday on the eve of the US payrolls report.
The Dow Jones Industrial Average was flat at the close Thursday, while the broad-based S&P 500 lost 0.11 percent and the tech-rich Nasdaq was the laggard, dropping 0.29 percent.
Investors are closely watching the report after Federal Reserve Chair Janet Yellen said Wednesday that if US economic activity remains solid the Fed could decide to increase interest rates at its December meeting.
"There's clearly profit-taking and the market is cautious ahead of the US payrolls data," William Wong, head of sales trading at Shenwan Hongyuan Group in Hong Kong, told Bloomberg News.
"Trading is very thin in Hong Kong. China is more policy-driven so the market is expecting more measures there."
Chinese firms have rallied in Shanghai and Hong Kong this week on hopes for economic reforms after the ruling Communist Party issued guidelines for its 2016-2020 development plan on Tuesday.
The proposals included calling for liberalisation in China's capital markets and foreign exchange regime.
Singapore Airlines in Tiger takeover
Standard Chartered shares slumped in Hong Kong after a Fitch downgrade, with the ratings agency citing "unfavourable profitability and asset quality trends as well as its underperformance relative to peers" as the reason for the move.
Elsewhere, Singapore Airlines (SIA) announced a full takeover bid for its struggling budget carrier subsidiary Tigerair on Friday, vowing to redevelop it as an integral part of the group's portfolio.
The airline is offering Tiger shareholders a price of Sg$0.41 per share in cash and an option to subscribe for SIA shares at Sg$11.1043.
Tiger shares closed at Sg$0.31 on Thursday, meaning SIA's offer price carries a 32 percent premium over that. Both airlines halted trading on Friday due to the announcement.
In currency markets, the dollar ticked down to 121.64 yen from 121.74 yen Thursday in New York, but still up from rates below 120 yen in recent weeks. A weaker yen is a plus for Japanese exporters.
The euro traded slightly up at $1.0892 from $1.0881 and to 132.48 yen from 132.46 yen in US trade.
In Asian trade, US benchmark West Texas Intermediate for delivery in December was trading 12 cents higher at $45.32 and Brent crude for December was up 12 cents at $48.10 a barrel.