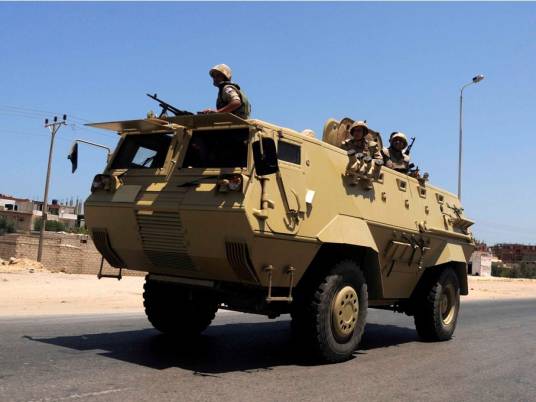 Two attacks in Egypt's Sinai Peninsula killed at least 30 security personnel on Friday, security sources said, in some of the worst violence against the state since President Mohamed Morsy was overthrown last year.
At least 27 people died in the first attack in the al-Kharouba area northwest of al-Arish, near the border with the Gaza Strip, the sources said. Medical sources said they expected the number toll to increase because some of the wounded were in critical condition.
The car bomb attack targeted two armored vehicles stopped at a checkpoint near an army installation, the sources said.
Security officials gave conflicting accounts, with one Sinai-based official saying the attack was not with a car bomb but a rocket-propelled grenade. More than 25 people were wounded.
Hours later, gunmen opened fire on a checkpoint in the town of al-Arish, killing three members of the security forces, officials said.
There was no immediate claim of responsibility for either attack. Similar previous operations have been claimed by Egypt's most active militant group, Ansar Bayt al-Maqsis.
President Abdel Fattah al-Sisi called for the National Defense Council to convene for an emergency meeting in response to what his office called "a terrorist attack".
Security forces face a Islamist insurgency that has killed hundreds of soldiers and policemen since the army toppled President Mursi of the Muslim Brotherhood last year after mass protests against his rule. Most attacks have been in Sinai.
Six soldiers were killed on Sunday by a roadside bomb southwest of al-Arish.
Security officials have expressed concern that Islamic State militants who control parts of Iraq and Syria have forged ties with radical Islamist groups in Egypt.