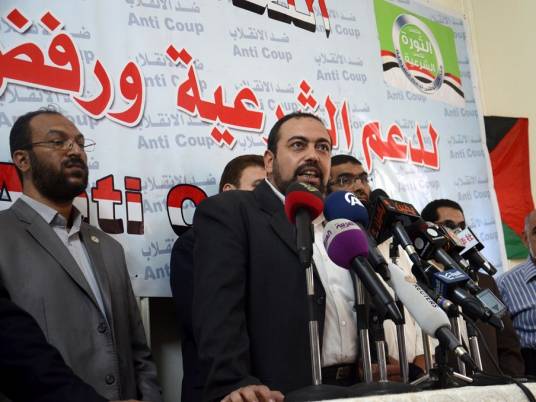 A delegation of African Union leaders, led by former Malian president Alpha Oumar Konare, met late Wednesday with leaders from the National Alliance to Support Legitimacy, the Islamist alliance leading protests demanding the reinstatement of deposed president Mohamed Morsy.
NASL leader Magdy Qurqur said the three-hour meeting was held at a hotel in Cairo did not tackle possible reconciliation between the group and the transitional authorities. He revealed that NASL leaders listened to results of the delegation's earlier meetings with Egyptian officials and political groups over the past few days.
Qurqur told Al-Masry Al-Youm that the meeting "did not propose any settlements and had not made any breakthrough for the political crisis". He said that the delegation will later submit a report on the results of its talks in Egypt to the African Union.
The NASL stressed to the AU delegation its "commitment to peacefulness and its denunciation of attacks against regime forces," said Qurqur.
Amr Azzam, another NASL leader, said "the African delegation confirmed that authorities rejected the delegation's requests to visit Morsy throughout its past three visits."
Azzam said the delegation acknowledged "a decline in security, democracy and human rights in Egypt."
Egypt's Foreign Ministry had said that the AU visitors had acknowledged that the 2013 ouster of Morsy was a "popular uprising" rather than a military coup.
The AU suspended Egypt's membership following Morsy's overthrow in July 2013.
Edited translation from Al-Masry Al-Youm