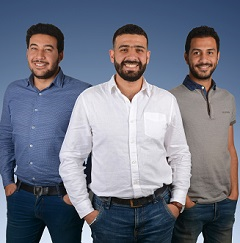 The American University in Cairo celebrated, in a statement, the successful bus-hailing company Swvl, established by its graduates, after the company was listed on Nasdaq.
Swvl, which was incubated in the AUC Venture Lab business incubator, began trading its shares on Nasdaq, becoming the first Middle Eastern company with a value exceeding one billion dollars to be listed
on Nasdaq.
In 2017, AUC 2015 graduate Mostafa Kandil, along with Mahmoud Noah and Ahmed Sabah, co-founded Swvl, which started as a mass transit app in Egypt.
The statement explained that Kandil began his studies as a petroleum engineering student at the American University in Cairo, but sought a more dynamic path through keenness to explore the business world.
In 2017, Swvl joined the AUC Venture Lab, the first university business incubator in Egypt to incubate innovation-based high potential technology startups.
In August 2021, when Swvl announced that it would be listed on the Nasdaq, Kandil said: "I am proud to have been a student at the American University in Cairo, as that was the beginning of the journey that brought me to this moment in my life."
Now Swvl has been able to compete on the stock exchange along with technology giants with a value of US$1.5 billion making it the first company from the Middle East worth over $1 billion to be listed on Nasdaq, and the second company from the Middle East, after Anghami, to be listed by Special Purpose Acquisition Company (SPAC).
"We are very excited to see Swvl's team reach this inspiring milestone," said Ayman Ismail, founding director of the V-Lab and associate professor and Abdul Latif Jameel Endowed Chair in Entrepreneurship.
"At AUC Venture Lab, we take pride in having been part of Swvl's early journey and continue to be committed to being a catalyst for growth and to empowering more inspiring founders during their journeys. [Swvl is] "an inspiration to many entrepreneurs and one that paves the way for an entire generation of tech startups," he added.
Swvl was accelerated by the university's business incubator in the eighth session of the incubator, and the Swvl team was able to launch the application before graduating from the course. The startup has seen impressive growth since its launch, crossing the borders of Egypt and taking root abroad.
Kandil – along with co-founders Noah and Sabah – was named to Forbes' list of the 30 Most Influential Arab Youth in the Middle East under the age of 30 in 2018. The company now operates in 115 cities in 18 countries across Latin America, Europe, Africa and Asia.
The Venture Lab has so far graduated more than 300 startups that have raised more than LE3 billion in funding and provided more than 10,000 jobs.
The Venture Lab has been recently recognized as the Best Accelerator/Incubator Program in North Africa by the Global Startup Awards, a competition based in Copenhagen that reaches 124 countries.