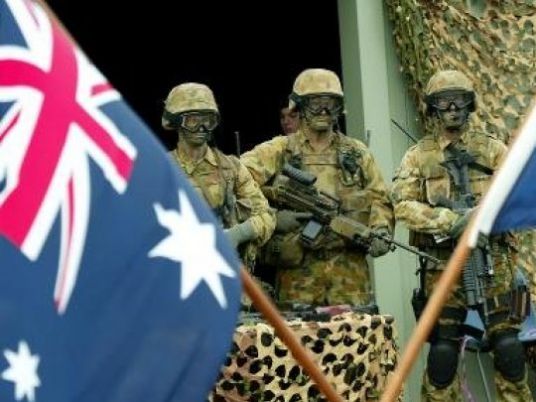 Hundreds of Australian police on Saturday arrested five teens planning an Islamic State-inspired terrorist attack next week at an event to mark the centenary of the landings at Gallipoli during World War One, Prime Minister Tony Abbott said.
More than 200 police were involved in a series of raids in the southern city of Melbourne in the early hours of Saturday, police said, following a month-long sting operation. Five men aged 18 and 19 were detained.
The run-up to this year's centenary – a major holiday in
Australia
and New Zealand – has been marked by numerous television programs and commemorations, sparking concerns that radicals may target the celebrations for a high-profile attack.
"There were a series of raids in metropolitan Melbourne. Five people were arrested," Prime Minister Tony Abbott told reporters. "Two will be charged with preparing a terrorist act.
"The act that we believe was in preparation involved attacks against police officers on ANZAC Day."
Senior police officials said that they found "edged weapons" including a sword and knife during the raids, but were confident the threat had been contained.
Australia has sent hundreds of soldiers to Iraq to help train forces fighting the Islamic State, heightening concerns about reprisal attacks in the homeland.
Australia, a staunch ally of the United States and its action against the Islamic State group in
Syria
and Iraq, has been on heightened alert for attacks by home-grown Islamist radicals since last year.
Canberra raised the national terror threat level to "high" for the first time last September, when hundreds of police conducted raids after receiving information that Islamic State supporters planned to conduct a public beheading.
Australia believes at least 70 of its citizens are fighting with the Islamic State group in Syria and
Iraq
, backed by about 100 Australia-based "facilitators".
The suspects arrested on Saturday are believed to have at the very least taken their inspiration from Islamic State, which has proven adept at recruiting from Western countries.
"We believe the attack was inspired by the Daesh death cult in the Middle East," Abbott said, using an Arabic term for Islamic State. Victorian state Premier Daniel Andrews said the threat had been contained and condemned what he called an "evil" plan. Melbourne is the biggest city in Victoria state. "These people are not people of faith. They do not represent any culture," Andrews told reporters. "They are … acts of evil. It is as simple as that."
All five suspects are "associates" of Abdul Numan Haider, a teenage Islamic State sympathizer who was shot dead by police in Melbourne last year after he stabbed police officers.