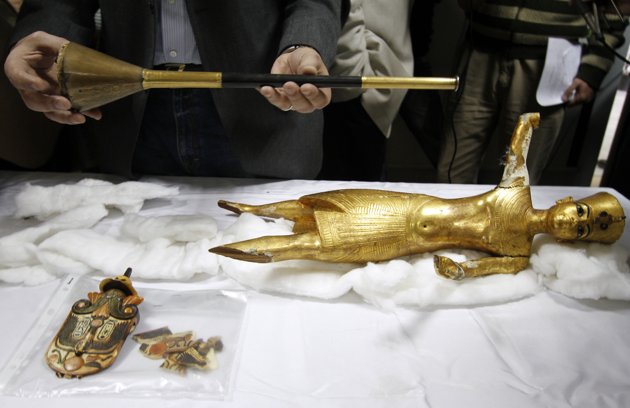 Antiquities Affairs Minister Mohamed Ibrahim said the ministry on Tuesday restored 10 relics that were earlier stolen from the Mallawi Museum in Minya.
The ministry restored another two pieces on Sunday, bringing the total of retrieved pieces to 12, some of which were returned by Minya residents, he added.
Mallawi Museum had been stormed by looters last week and some of its contents were ransacked while others were destroyed.
Ahmed Abdel Zaher, the head of the antiquities investigations, said the restoration of lost artifacts comes after the minister called on everyone who possesses a relic from the Malawi Museum to return it to antiquities authorities with no legal consequence. People who returned artifacts were also rewarded financially.
Minya investigative authorities are currently taking necessary security measures to return the pieces into the museum's possession.
Ahmed Sharaf, the head of the ministry's museums sector, said the restored artifacts comprise three clay pots, a limestone statue, three 20-centimetre clay statues, two bronze statues of Osiris, one of which is 19 centimetres tall and the other 25 centimetres tall, and a rectangular piece of gypsum measuring 11 centimetres by 9 centimetres with drawings of the Ibis bird and the feather of Maat – the goddess of justice. The relics date back to the Greco-Roman era.
The artifacts had been stolen during violent clashes that broke out between supporters of ousted President Mohamed Morsy and security forces and residents last week.
UNESCO condemned the thefts and called for better protection of the museum, meanwhile offering to help Egyptian authorities to restore the items.
Edited translaiton from MENA