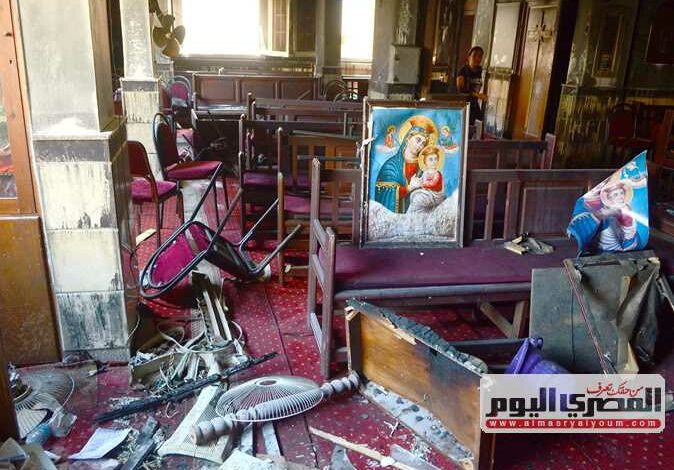 The Grand Sheikh of Al-Azhar Ahmed al-Tayyeb directed, on Sunday, the General Administration of Al-Azhar's Special Accounts, to quickly coordinate with NGOs to disburse urgent cash support to the families of the deceased in Abu-Seifein church fire in the Imbaba area of Giza.
Tayyeb also directed the opening of Al-Azhar University hospitals to recieve the victims of the tragic accident to provide all aspects of support along with the hospitals of state institutions, as well as providing the necessary psychological support.
The Coptic Orthodox Church announced the death of 41 people and the injury of 14 others, as a result of a big fire that broke out in the Church of Abu-Seifein in the Imbaba Airport area, north of Giza, during the Divine Liturgy on Sunday morning.
Security and judicial sources revealed that the initial examination of the criminal lab and the Public Prosecution, stated that the fire was caused by a short circuit in the generator feeding the church, which led to the spread of the fire to the rest of the church.
A statement for Interior Ministry said that "Examination of the forensic evidence agencies revealed that the fire broke out in an air conditioning on the second floor of the church building, which includes classrooms, as a result of an electrical fault, and this led to the emission of a thick amount of smoke, which was the main cause of injuries and deaths."
On Monday, the Ministry of Social Solidarity announced the start of paying compensation to the families of the victims and injured in the accident. The family of the deceased will receive LE 100,000, the injured who spent more than 72 hours in the hospital will recieve LE 20,000, and those who spent lesser period will get LE10,000.
Al-Azhar Undersecretary Mohamed al-Duwaini, Nazir Ayyad, Secretary General of the Islamic Research Academy, Vice President of Al-Azhar University Mahmoud Siddik, and a delegation of Al-Azhar leaders visited the victims of the church accident, who are receiving treatment at Agouza Hospital, to check on their safety and support their families.
Duwaini expressed to the injured his great sadness for what happened to them, conveying to them the wishes of the Grand Sheikh of Al-Azhar, for a speedy recovery, and to return to their homes and their families safe and sound, stressing that this tragic accident grieved all Egyptians.