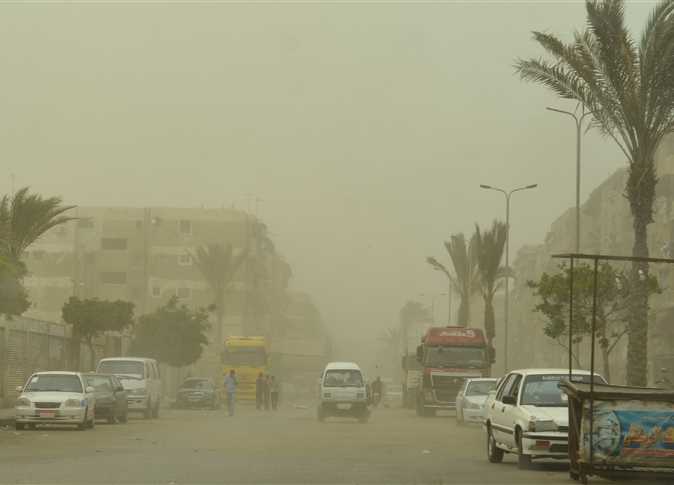 A wave of bad weather hit most of Egypt's governorates on Saturday as several of them saw heavy rains, which caused road blockages, drops in temperature, sand storms that blocked road visibility, traffic accidents and the closure of a number of ports in coastal governorates.
Alexandria and parts of the northern coast were subjected to severe storms accompanied by rain and temperature drops, causing local authorities to announce a state of emergency.
Alexandria port authorities closed the Alexandria and Daqahlia ports and stopped fishing in the eastern port and the city's coasts.
In Kafr al-Sheikh, fishing was suspended in Borulus lake. According to Ahmed Nassar, the fishermen's captain in the governorate, the Rashid port and Borg al-Borulus port were closed due to poor weather conditions.
In Monufiya, different areas of the governorate suffered heavy rainfall and winds, causing authorities to announce emergency.
Heavy rainfall in Beheira suspended fishing in the Mediterranean Sea.
Twelve people were injured in a collision between a truck and a microbus on the agricultural highway in Kafr al-Dawar, while one person was killed in Suez and 11 others were injured in a microbus rollover on Cairo-Suez highway as a result of the weather.
Towns and villages at Qaliubiya and Sharqiya were also subjected to rain and heavy winds, resulting in confused road traffic. Executive authorities there announced a state of emergency to meet the weather fluctuations and cooperated with the drinking water and sanitation company, and the electricity company to ensure the continued efficiency of sewage networks following heavy rainfall.
North Sinai witnessed a drop in temperature, cold winds and heavy clouds.
The Red Sea Ports Authority announced the closure of the ports of Nuweiba Bahary and Sharm el-Sheikh in South Sinai.
Qena was exposed to moderate rain, with increased mist levels on desert roads and moderate winds with dense clouds. A power outage occurred in the cities of Qena and Nag Hammadi, causing local authorities to raise emergency levels.
The poor weather conditions caused the cancellation of hot balloon flights in western Luxor due to the dusty winds, which exceeded 6 kilometers per hour, and low visibility levels.
The New Valley was exposed to strong winds that hit the highways and led to poor visibility and the accumulation of sand dunes on asphalt roads.
The General Meteorological Authority confirmed that the bad weather wave will continue until Monday, after which winds will rest on most parts and temperatures will rise again.
Edited translation from Al-Masry Al-Youm