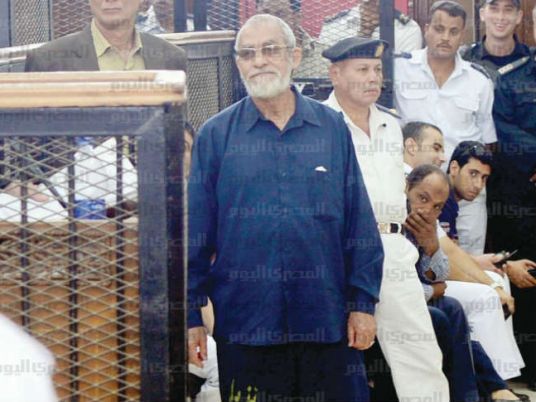 Days after he and 11 others were spared a death sentence and a retrial was granted, Muslim Brotherhood Supreme Guide Mohamed Badie may also be spared a life sentence based on recommendations from prosecutors on Monday.
Prosecutors at the Court of Cassation delivered an advisory report on Monday recommending that an appeal by Badie and other senior Brotherhood leaders be accepted. They are appealing life sentences that were handed down over charges of inciting violence that erupted between Brotherhood supporters and opponents outside its Guidance Bureau in Cairo in June 2013.
The clashes outside the Brotherhood's headquarters emerged during protests against the policies of group leader and former Egyptian president Mohamed Morsi who was ousted days later. The conflict left at least nine dead.
The Cairo Criminal Court had sentenced Badie, his deputy Khairat al-Shater, former parliament speaker Mohamed Saad al-Katatny, former MP Essam al-Erian and 10 other group leaders to life in prison. Four other lower-profile members were sentenced to death.