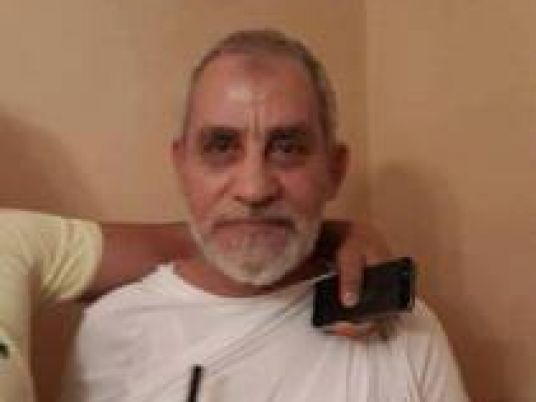 The South Giza prosecutor on Thursday ordered the detention of Mohamed Badie, leader of the Muslim Brotherhood group, for 15 days pending investigation into charges of killing a citizen and inciting the killing of police officers while attempting to break into a police station in 6 of October City on 16 August last year.
Investigators say that Badie provided 250 members of the group with automatic rifles to use if the police resisted them.
Prosecutors ordered that Badie return to his cell after two hours of investigation. He is also charged with leading a terrorist group that aims to disrupt the Constitution and prevent state institutions from exercising work, harming national unity and social peace, and supplying money, weapons and ammunition to carry out terrorist operations.
Badie denied the charges and claimed that was abducted and not arrested. He refused the investigations on the pretext that the prosecution is an authority from what he called a military coup regime. He said that Mohamed Morsy is the legitimate president of the country, and that the whole world will bring to trial those who toppled him, once the leaders of the Brotherhood are released from prison to rule again.
He complained of his solitary confinement and asked to be detained with other inmates. He also asked to be allowed to walk and exercise.
The attack on the police station killed two conscripts and wounded four others.
Edited translation from Al-Masry Al-Youm