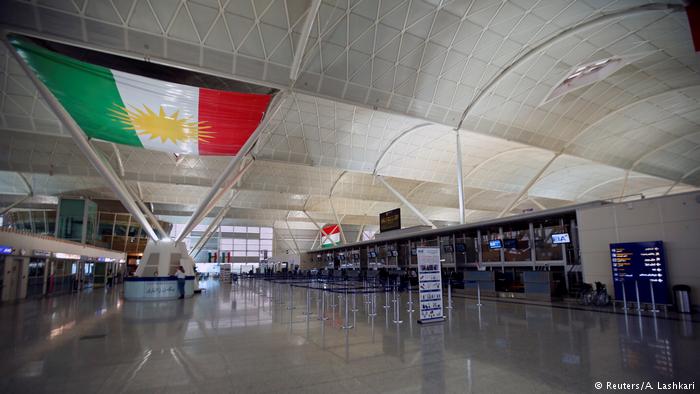 After a six-month blockade, the airports of the Kurdish regional capital, Irbil, and second city Sulaimaniyah will be "reopened to international flights," Iraq's Prime Minister Haider al-Abadi said in a statement on Tuesday.
"Local Kurdish authorities [have] accepted that central authorities retake control of the two airports," the statement said.
Kurdish authorities confirmed that airports in Iraqi Kurdistan will return to federal Iraqi control and would report to Baghdad's Interior Ministry.
It is not clear if the autonomous region will maintain its independent visa system after the blockade ends. The deputy spokesman for the Kurdistan Regional Government (KRG) said talks were taking place on the issue.
All Kurdistan-bound international flights are currently being rerouted to Baghdad, which has imposed entry visas on foreigners visiting the Kurdish region.
"The opening of Kurdish airports to international flights is an important step," Nechirvan Barzani, the prime minister of the Iraqi Kurdistan region, told a news conference, according to Kurdish Rudaw TV. "We hope more significant steps will be taken."
'Significant positive step'
The UN special envoy to Iraq, Jan Kubis, said the move was a "significant positive step that is certain to boost the atmosphere of partnership cooperation" between the two sides.
The formal lifting of the blockade will take place in the next few days, Abadi's spokesman Saad al-Hadithi told the news agency Agence France-Presse.
Only domestic flights have been allowed through the region's airports, with foreign airlines suspending their routes.
Relations between Irbil and Baghdad remain frosty, however. The Iraqi parliament recently approved the 2018 budget in the absence of Kurdish MPs, who boycotted the meeting in protest at the cut in finances allocated to the region.
Blockade in response to referendum
Baghdad imposed the blockade in September after Iraqi Kurdistan voted for independence in a non-binding referendum.
The blockade was extended in December for two months and then renewed in February for another three months.
The ban was part of a series of penalties imposed on the Kurds to quash the poll.
Iraqi Kurdish peshmerga forces took control of the northern province of Kirkuk, home to key oilfields, in June 2014 after federal forces withdrew in their fight against the "Islamic State" group.