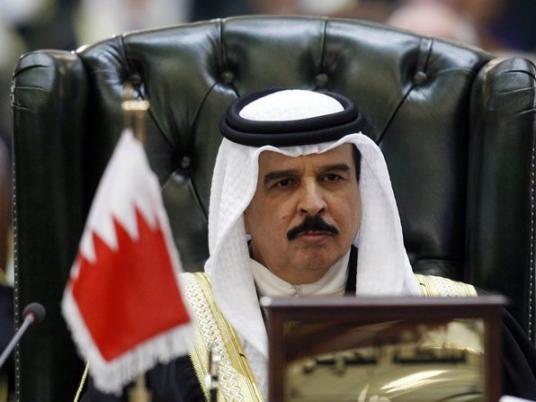 Bahrain's premier has backed Saudi Arabia's plan for the creation of a Gulf union, a report said Sunday, but the nation's Shia opposition is demanding the proposal be put to a referendum.
The "option of a (Gulf Cooperation Council) union has become urgent," Bahraini Prime Minister Prince Khalifa bin Salman was quoted as saying by the Saudi Al-Riyadh daily.
Khalifa said the six GCC nations, whose foreign ministers were meeting in Riyadh ahead of a meeting of their countries' leaders in the Saudi capital on Monday, must cooperate to ensure security in the region.
The GCC must "concentrate during this period on achieving and ensuring security and increasing coordination in the fields of security, military and defense by adopting a unified Gulf security structure to protect the council's states," Khalifa told the newspaper.
The GCC leaders at their Monday meeting are expected to discuss a Saudi proposal to develop their six-nation council into a union, possibly starting with Saudi Arabia and Bahrain.
The exact nature of this union, first floated by Saudi King Abdullah in December, remains unclear but Bahrain's state minister for information, Samira Rajab, said it could follow the "European Union model."
Sheikh Ali Salman, the leader of Bahrain's main Shia opposition formation, Al-Wefaq, has criticized the project which he said must first be subjected to a referendum that should take place in all GCC states.
"Bahrain gained its independence (in 1971) following a referendum" overseen by the United Nations, said Salman in a speech on Sunday.
"The people of Bahrain alone have the right to" decide, he said, adding the kingdom's ruling "Al-Khalifa (dynasty) has no right to decide a union or confederation with any country."
The GCC was formed in 1981 when the Sunni-dominated monarchies aimed to bolster security after the 1979 Islamic revolution in Iran which was followed by war with Iraq.
The tension between Shia Iran and Sunni Saudi Arabia escalated last year when Saudi troops rolled into Bahrain to help quell protests in the Sunni-ruled state which were driven by the Shia majority.
A committee made up of three representatives from each of the six member states — the United Arab Emirates, Saudi Arabia, Bahrain, Kuwait, Qatar and Oman — will submit its findings on the proposed union to Monday's meeting.