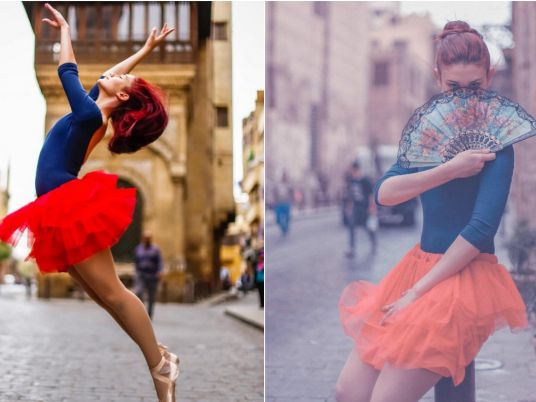 Inspired by the Dane Shitagi ballerina project, two young Egyptian directors-cum-amateur photographers have published a series of portraits of ballerinas on the streets of Cairo. It is a photo collection that depicts graceful bodies against the striking backdrop of Egypt's capital city.
In a fresh take on the gritty, smoggy city, directors Mohamed Taher and Ahmed Fathy launched the project "Ballerinas of Cairo" to set off the beauty of Cairo against the dancers. The project is an enchanting fusion of dance and photographic art captured in a series of photo sessions.
On their release, the photos went viral on social media, earning thousands of likes on the project's official Instagram page.
"The idea already existed in many countries, which inspired me to try it in Egypt — especially Cairo," Director Taher told Egypt Independent. "So I decided to launch the project here, to let people explore the beauty of Cairo from a different perspective," he said.
The photography sessions started in January, then paused for a few months before resuming in March.
"The photo shoots took place in the early morning to get the best of the light and to avoid the crowds," Taher explained.
The photos were taken in Korba, Maadi, Downtown, Al-Hussien and on the Autostrad, "where the view Citadel of Salah el-Din is breathtaking," Taher said.
"At the moment we don't have an official facebook page due to a shortage of team members. It will need time and updated material to follow up, however we are looking for a professional photographer and extra members to expand our team as soon as possible," he told Egypt Independent.
The project features three ballerinas. Mariam El Gebali, who dances with one of the ballet companies of Cairo Opera House, was the first to join the project.
" El Gebali showed the photos from the session to her colleagues Nour ElGazzar and Passant Abu Basha who then joined the project too."
Young dancers wearing tutus in the middle of Cairo may have been an unfamiliar sight to bystanders, but the team were pleasantly surprised at the mild reactions of onlookers, some of whom saying how "impressed" they were at what the group were doing, Taher remarked.
"Our base city is Cairo, but we have plans to take the project to all parts of the country — especially as we've received numerous requests from ballerinas in Alexandria asking to join the project." Taher said.
On a different note, Taher underlined that the project was not launched in an effort to revive tourism. He doesn't think it will have a strong impact on the industry as the photos were taken in anonymous streets of the city, rather than at well-known historical and touristic sites.