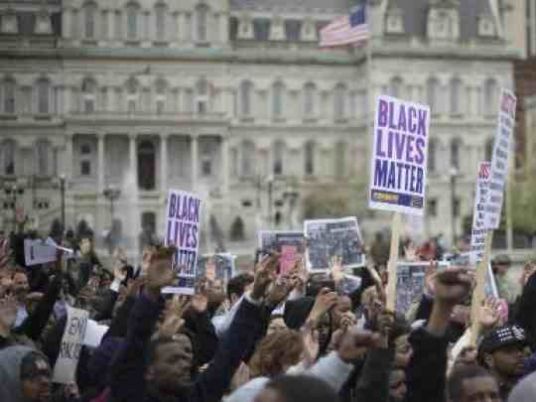 As protesters marched in several cities, Baltimore officials asked for patience on Thursday while prosecutors decide whether to charge six officers involved in the arrest of a black man who later died of injuries he sustained while in custody.
The office of Marilyn Mosby, the state's attorney, will include the internal report as part of its own investigation into the death of Freddie Gray, who suffered spinal injuries sometime between his April 12 arrest for carrying a switchblade knife and his arrival at a police station.
Gray's death a week later has become the latest flashpoint in a national outcry over the treatment of African-Americans and other minority groups by a white-dominated U.S. law enforcement establishment.
After a night of rioting in Baltimore on Monday, protests spread to other major cities later in the week in a reprise of demonstrations last year set off by police killings of unarmed black men in Ferguson, Missouri, New York and elsewhere.
A few hundred protesters marched through Baltimore in a noisy but peaceful demonstration on Thursday, joined by NBA star Carmelo Anthony and other celebrities, ahead of a 10 p.m. EDT (0200 GMT) curfew that city officials said would continue through the weekend.
"I'm hoping that we will get justice," said Janai Peters, 22, who works at an area hospital. She said city prosecutors must act quickly to resolve the case. "My hopes aren't high, but I am hoping for something positive."
The Washington Post reported that police on Thursday night found the body of a man inside a semi truck parked near a CVS pharmacy that was burned and looted during Monday's violence.
Baltimore police spokesman Sergeant Jarron Jackson told the Post that officials were investigating it as a suspicious death, but it did not appear to be connected with the unrest.
A rally of about 1,000 people in Philadelphia briefly turned tense as protesters tried to march onto a highway and were blocked by police.
TEST FOR NEW PROSECUTOR
Mosby, a 35-year-old African-American who took office in January, said her staff was regularly briefed by police investigators during the course of their probe, and at the same time, her office has been conducting its own independent probe.
"We are not relying solely on their findings but rather the facts that we have gathered and verified," Mosby, a Democrat, said in a statement. "We ask for the public to remain patient and peaceful and to trust the process of the justice system."
Mosby faces the biggest test of her short career in trying to determine what exactly happened to 25-year-old Gray and whether any of the officers should face criminal charged. The six are on suspension.
The daughter and granddaughter of police officers and the wife of a city councilman, Mosby vowed during her campaign to crack down on repeat offenders and promised to be more visible in the community than her predecessor.
Baltimore Mayor Stephanie Rawlings-Blake vowed to see justice done. She noted that she, Mosby and Attorney General Loretta Lynch, whose department is also investigating Gray's death, were important figures in the case.
"If, with the nation watching, three black women at three different levels can't get justice… for this community, you tell me where you're going to get it in our country," Rawlings-Blake told reporters.
NEW QUESTIONS SURFACE ON GRAY'S INJURIES
While there are no immediate plans to make the findings of the police report public, media reports on Thursday offered new perspectives about what may have happened to Freddie Gray.
A Washington Post story suggested Gray tried to hurt himself while riding in a police van.
A prisoner who rode in the van said he had heard sounds that suggested Gray was banging his own head against the wall, according to a document written by a police investigator and obtained by the newspaper. The other prisoner could not see Gray because they were separated by a metal divider.
"I think it's unfortunate that these little things are coming out… People should take a deep breath and wait for the state's attorney to come out with the entire information," Baltimore Police Commissioner Anthony Batts told CNN.
Local television station WJLA said the medical examiner saw no evidence that Gray suffered the fatal injury during his arrest, pointing instead to the injury happening during his ride in the police van, multiple law enforcement sources told the station.
The medical examiner found that Gray appeared to break his neck when his head slammed into the back of the van, the sources told WJLA. He also suffered a head wound matching a bolt jutting from the vehicle's back door.
Police have already said Gray was not wearing restraints during the ride, a violation of department policies.
The leaks did not impress protesters. School employee Gregory Baugh, 37, called the new reports "bogus".
"He had plenty of bruises all over him, that had to happen some way."