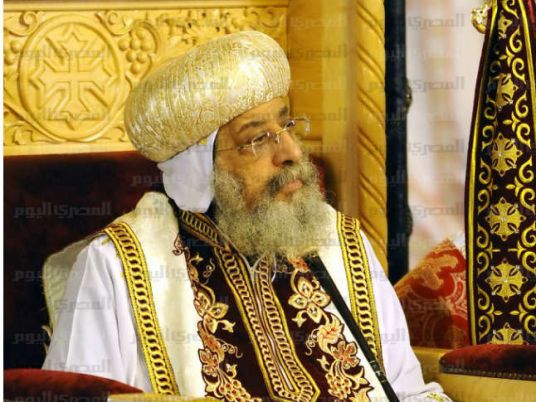 The declaration signed by Pope Francis and Coptic Pope Tawadros II, that Catholics and Copts for the first time will recognize each other's sacrament of baptism stirred wide controversy among Coptic Christians in Egypt.
The websites affiliated to the Catholic Church reported that the common declaration states that there is no need for a second baptism for Christians who convert from one Church to another.
However the Coptic Orthodox Church issued a statement in which the official spokesperson confirmed that there were only attempts at mutual recognition of baptism.
Church sources said that some bishops of the Holy Synod and Coptic Orthodox youth declared their refusal of the agreement, with the wording "seek agreement" on mutual recognition of baptism.
The 11th article of the declaration signed by Pope Francis and Coptic Pope Tawadros II says: "with one mind and heart, we will seek sincerely not to repeat the baptism that has been administered in either of our Churches for any person who wishes to join the other. This we confess in obedience to the Holy Scriptures and the faith of the three Ecumenical Councils assembled in Nicaea, Constantinople and Ephesus."
"The agreement is clear and explicit on the recognition of baptism between the two parties and this does not prevent the opposition of some bishops," said Archbishop Youhanna Kolta, the Patriarchal Deputy of Egypt's Catholic Church.
Kolta expressed surprise that the objection is to a ritual, rather than a doctrinal issue.
He said that those protesting the declarations are going against the current, especially that the Christian world seeks unity and the overthrow of differences.
Father Abdel-Masih Bassiet, Professor of Theology at the Coptic Theological Seminary said that the declaration is clear and straightforward on this point: "will seek sincerely not to repeat the baptism"; and this is the same as the statement of the Coptic Orthodox Church, which was posted on Facebook.
He added that there is a union in the fundamental beliefs, but the unification of baptism has to be preceded by theological dialogues within the Holy Synod, and then agreement.
Kamal Zakher, a Coptic researcher and writer, said that the site of the Holy See in the Vatican mentioned in the text will be "seeking sincerely," which indicates there is no agreement yet.
The Holy Synod, the highest body in the Church, must agree upon it, because it is a collective decision and not the decision of the Pope alone.
Zakher added that the coming days should bear unity to the churches and that most of the young Coptic youth who are non-politicized welcomed the rapprochement between the two churches, as long as there is no violation of doctrines.
He stressed that the positions of the Church are not affected by the pressure of "some radicals" on social networking sites.