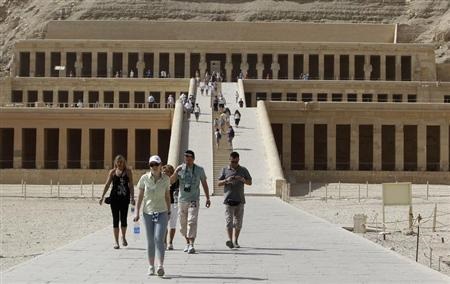 Spanish charter airline Master Flights has announced the resumption of its direct routes from Barcelona to Luxor and Barcelona to Aswan, beginning April 2019.
The move follows increased demand for both destinations, after Spain reduced its warnings on travelling to Egypt since 2013.
Last week, the company signed the renewal of its already-existing flights from Madrid to the two Egyptian cities, with the schedule now extended from November 2018 to November 2019.
Mohamed Hassanein, President of Galaxia (an agency specializing in Spanish tourists), told Al-Shorouk that Spanish tourists felt encouraged to visit Egypt following their government's ease of its warnings, and that Spaniards generally viewed Egypt as a major destination for cultural tourism.
He added that incoming Spanish tourism has increased around 60-70 percent compared to 2017, and suggested that a Ministry envoy deal directly with the company, to ensure that Spanish tourists didn't face any issues.
Hassanein also noted the issue of increased flight costs, explaining that after the revolution, prices for these routes leaped from roughly 250 Euros – including the internal flight from Cairo to Luxor/Aswan – to 1000 Euros, leading companies to turn to charter flights.
Egypt has been witnessing a tourism boost since the beginning of 2018. The country's revenues in the tourism sector jumped 83.3% in the first quarter (Q1) of the 2018 fiscal year, reaching $2.2 billion, a senior anonymous official told Reuters.
The source said that the number of tourists who visited Egypt in Q1 increased by 37.1%, bringing in a total of 2.383 million tourists.
Moreover, Minister of Tourism Rania al-Mashat announced that the number of tourists visiting Egypt jumped by 30 percent during the first quarter of 2018, compared to last year. Tourism revenues also achieved an 83.3 percent surge in the first quarter of 2018.
One of the main factors for the hit in tourism was the downing of a Russian plane to Egypt in 2015, claimed by Islamic State's Sinai branch.
However, according to Russian state media outlet Russia Today, at least 3.16 million tourists are expected to visit Egypt thanks to Russia's decision to lift a ban on direct flights to Cairo.
This improvement also follows a rigorous advertising program Egypt has adopted in the past few years, to restore its position as an international destination for tourism.
This included inviting over world stars such as footballers Benzema and Lionel Messi, as well as international actors Hillary Swank and Nicholas Cage to visit the country.
The country also recently launched an Instagram page titled "Experience Egypt", which displays stunning images of different cities including Cairo, Luxor, Aswan and Red Sea cities, using social media to captivate young people into visiting the country.
The International Economic Forum, one of leading institutions in the field of economic research, issued a report on competitiveness in 2017, citing Egypt as the second-cheapest tourist destination in the world.
In 2017, the United Nations World Tourism Organization (UNWTO) ranked Egypt as the world's second fastest growing destination. The trend only continues to grow this year, as recent statistics indicate that Egypt received 730,000 tourists in February 2018; a 35 percent increase, compared to the same month in 2017.