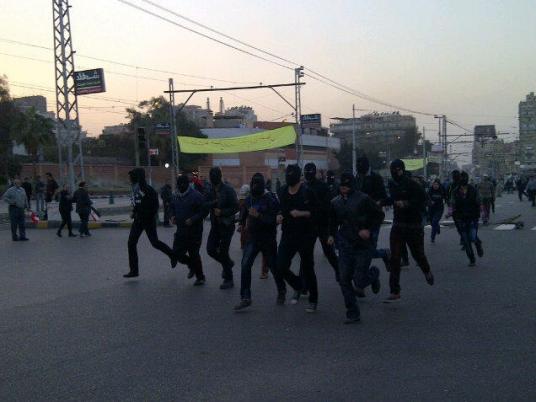 The Islamist party of the Jihad Organization and Jama'a al-Islamiya has said the ways of dealing with banditry specified in the Quran must be applied to Black Bloc members, which means they must be killed.
"God orders us to kill, crucify or cut off the hands and feet of those who spread mischief on earth," said Jama'a al-Islamiya Mufti Abdel Akhar Hammad, citing a verse from the Quran. "The president must give that order."
Mohamed Samra of the Jihad Organization said that the Black Bloc group is financed from abroad and must be killed, and that the National Salvation Front members must be arrested and charged with incitement to riot.
Last week, Cairo witnessed the first appearance groups describing themselves as the Black Bloc. Decked in black and wearing masks, they clashed with police forces at Qasr al-Aini Street on Thursday. They said they would fight with the police if it targeted protesters. Previously unknown, the Black Bloc's goals remain unclear and its members generally avoid media contact.
Officials from the Muslim Brotherhood and state-run media have accused the group of violence, including attempting to set the presidential palace on fire, attacking the Brotherhood's headquarters, looting government institutions, blocking the railways and exchanging fire with security forces.
However, it is still unclear to what extent the Black Bloc has played a role in any of the violent incidents reported over the past few days, or if they are actually armed. The group is a largely unknown one whose motives remain unclear, and its members generally refuse to speak to the media.
Earlier on Tuesday, Prosecutor General Talaat Abdallah ordered police and deputized members of the Armed Forces to arrest all suspected members of the Black Bloc.
State-run news agency MENA reported that Hassan Yassin, the head of the Public Prosecution's technical office and the prosecution's spokesperson, is claiming that the prosecution has proof that the Black Bloc is carrying out terrorist activities.
No further information was available as to the nature of this evidence or the alleged terrorist activities.
Edited translation from Al-Masry Al-Youm