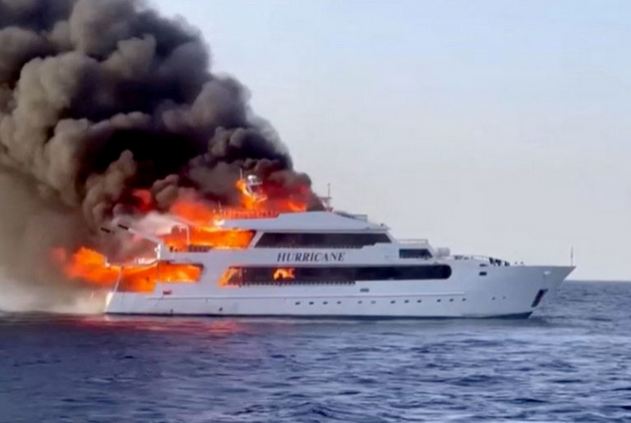 The British Scuba Travel company announced Monday that three British tourists died on Sunday following a fire that broke out on an Egyptian tourist boat in the Red Sea.
The company added that 12 other tourists who were on a diving holiday, as well as 14 crew members of the "Hurricane" boat, were rescued after the fire broke out at 05:30 GMT.
The three tourists who died chose not to dive, while the rest were attending a statement of instructions on the deck of the boat when the fire broke out.
They were immediately evacuated, while the captain and two dive guides attempted to reach the missing tourists before also abandoning the boat to fend for themselves.
The British Foreign Office said it was in contact with the local authorities about the incident and will support its citizens affected by the incident.
The boat was off the Elphinstone Reef near Marsa Alam in southeastern Egypt when the fire broke out, an area in the Red Sea that is popular with tourists for its beaches and diving.
Egyptian authorities said on Sunday that the fire broke out as a result of an electrical short circuit in the boat.
The British Scuba Travel company mourned the deceased tourists, saying, "Our sincere condolences to their families and friends at this very sad time."
It added in a statement that local authorities and police will conduct a thorough investigation into the incident.