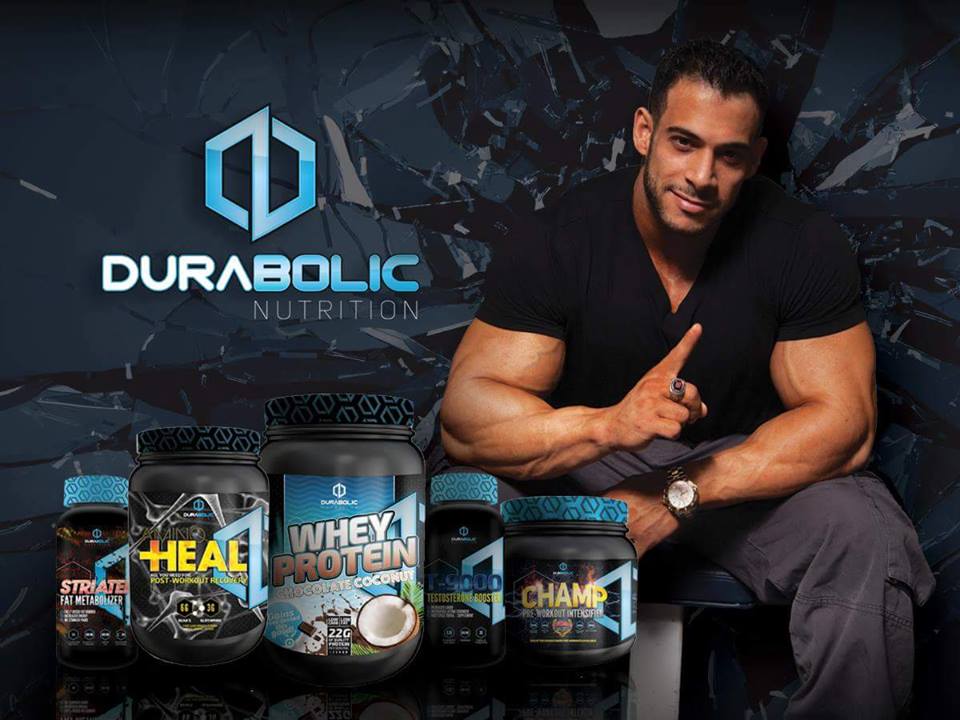 Rising bodybuilder and entrepreneur Mahmoud Al Durrah hopes his new supplement line can open a gateway in the fitness industry between the West and the Middle East, serving as a source of inspiration for young Egyptians.
Aiming to be the first Egyptian to debut his own brand of fitness supplements sold online and in stores by early 2016, Durrah says his dream is the first of its kind. "I want my supplement company to really be the biggest thing that comes out of the Middle East in terms of bodybuilding and fitness," the two-time Canadian national bodybuilding champion told Egypt Independent.
Currently, almost all of the fitness supplements available on the market are developed and launched in the United States and Canada, Durrah says.
With Egypt as its first market, the new Durabolic Nutrition line will include six products: two flavors of whey protein isolate, testosterone support, pre-workout, intra/post-workout recovery and a fat burner.
As an American University in Cairo graduate, Durrah says debuting his product in Egypt only makes sense as Cairo is his hometown and most of his fans are Egyptian. "The amount of support I get from them only makes it fair to return the favor in the best way I can," he adds.
Durrah poses on stage in July during the 2015 Canadian national championship where he took first place for the second time after sustaining a severe burn injury.
Sponsoring Egyptian athletes
With a pool of talented athletes in the Middle East, Durrah feels it is time to shed light on the region through his connections and business savoir-faire. One of his goals, which he hopes to achieve through Durabolic Nutrition, is to sponsor Egyptian athletes, boosting their image and catapulting them onto the world stage.
The problem, Durrah says, is that Egyptians have a lot of potential in both work ethic and genetics when it comes to fitness, but lack the local big fitness sponsors that exist in the West. "I want to give them the opportunity that they don't really have," he explains.
Durrah already has a few Egyptian athletes in mind to sponsor once he gets his company up and running.
Beating the odds
Having succeeded against the odds, Durrah hopes his story will embolden young Egyptians everywhere. Durrah suffered a bad accident before almost every championship in which he competed, from a motorcycle crash where he broke his knee to another incident which led to him having shoulder reconstruction surgery. Despite the circumstances, he won many of his competitions.
Four years ago, when he moved to Montreal to be with his children, he spent a lot of time jumping from job to job, just to make ends meet. Without any knowledge of French, he struggled. "I had absolutely nothing. My job at the time was waxing cars at a gas station and I had two kids to feed. I had to wake up at 5 a.m., finishing at 7 p.m., then go to the gym and catch six hours of sleep if I was lucky," he says.
Before his latest championship competition in Canada, Durrah was trying to put out a house fire when he received second- and third-degree burns to much of his body, spending several days in the ICU. After recovering at home for two months, he came back to win the 2015 Canadian bodybuilding championship for the second time.
Durrah lies on a bed in the hospital shortly after being burned in a fire at the end of October 2014. He only had until July to prepare for the Canadian national championship, where he took first place.
To reflect this inspirational story of success, Durrah says Durabolic Nutrition will feature an ad campaign showing athletes in harsh environments with the motto: "Why are you here?"
Nutrition and work ethic
Though Durabolic Nutrition is still in the testing phase, Durrah says his fans will be pleased not only with his product's high quality, but also with the taste. Vanilla-coconut-flavored protein powder is a new flavor that the Egyptian market has never seen. "It tastes like paradise," Durrah says with a smile.
While Durrah prepares for his next competition, he is now focusing on coaching, in addition to his new supplement line. He trains a wide variety of athletes from men wanting a bodybuilding physique to women who want to compete in bikini competitions, and of course, the average person wanting to get in shape.
As his product expands into Egypt, Durrah is looking forward to visiting his home country more often, possibly partnering with local gyms and coaching Egyptians online from Canada. "I didn't get into bodybuilding for the money," he says. "I got into it for the passion. I love to see the way people feel when they see how much I've changed the way they look. And mostly, the anticipation preparing for contests, and the brutal hard work involved. It all shows on stage, you can't cheat and hide from it. I don't mess around; I never skip meals or skip workouts. And those who do, will walk on stage like its thin ice, and I will be under it when it breaks."
Durrah hopes that through his product and coaching efforts, he can give back to the community where he was born and raised in a bigger way than anyone in the fitness industry has ever done.