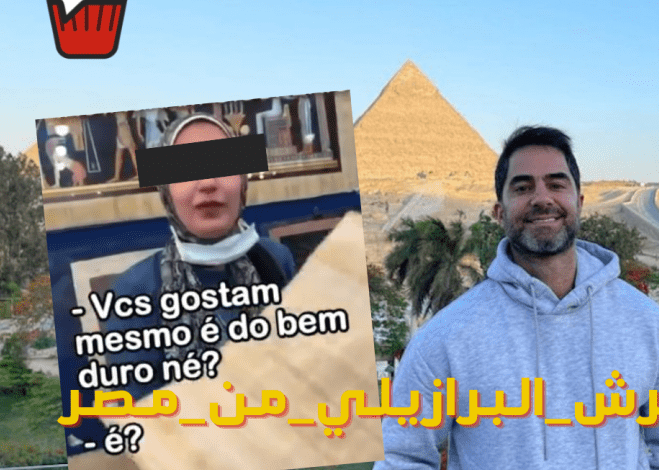 The Egyptian Interior Ministry said on Sunday evening that police have arrested a Brazilian doctor accused of sexually harassed an Egyptian woman who was selling papyrus.
According to the ministry, Victor Sorrentino posted a video clip of himself saying sexual and offensive things to the woman in Portuguese, which she did not understand. The video topped search engines Monday morning.
Security services were able to identify the victim and the perpetrator in the incident, and decided to take legal measures against the man, who is a well-known doctor and influencer in Brazil.
Sorrentino's words carried many sexual connotations, which the girl did not understand due to her lack of knowledge of the Portuguese language, so the girl agreed to what he was saying, thinking that he was talking about papyrus.
Immediately, many hashtags spread on Twitter under the title: expel the Brazilian harasser from Egypt, hold the Brazilian harasser accountable, we do not want harassers in our country.
Following the outcry, Sorrentino posted a new video of himself apologizing for the incident. He stated that he was just joking with his friends, but acknowledged that he has no right to act this way with a stranger.
Sorrentino said he continued the conversation because the woman was laughing, which made him feel in agreement with what he said.
Sorrentino is a famous online doctor who promotes paid medications and vitamins to nearly a million followers without any scientific basis. He is followed by nearly one million people on Instagram. His blog revolves around dexoting and how to live a healthier life.
Press reports say that Sorrentino was known during the coronavirus pandemic for defending what is called "early treatment" against disease using drugs whose effectiveness has not been proven.
In statements to the Saudi Al-Arabiya satellite channel, the Brazilian doctor's wife defended him, calling his behavior a joke and stating that everyone finds bad intentions in everything, perhaps, but his intention was clean.
Edited translation from Al-Masry Al-Youm