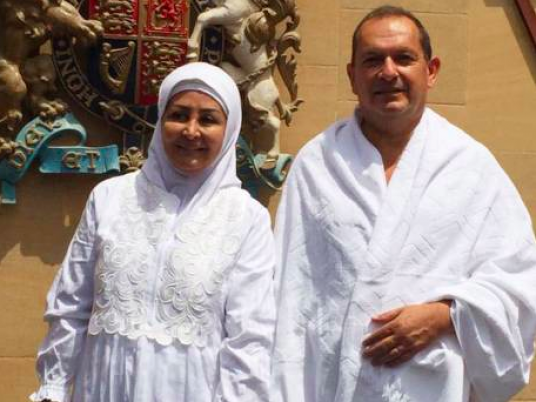 The British ambassador to Saudi Arabia has become the first senior British diplomat to embrace Islam and undergo Haj.
British Ambassador Simon Collis said he decided to embrace Islam after "spending around 30 years among Muslim communities," according to a report published by the Daily Mail on Thursday.
In a photograph, the ambassador is shown wearing the traditional white Haj robe.
Collis is married to a Syrian national, Hoda al-Magrash. He was the British ambassador to Syria until 2012 when British ties with Syria were cut.
A father of five, Collis has been a diplomat stationed in a number of Arab and Muslim countries. He was the British ambassador in Iraq and Qatar. He has also engaged in advanced diplomatic missions in the UAE, Yemen, India and Tunisia.
The image of him wearing the Haj robe spread across Twitter, having been posted by Fawziah al-Bakr from the University of al-Saoud.
She wrote, "The first British ambassador in Saudi to perform Haj after his embracing Islam: Simon Collis with his wife Hoda in Mecca. Thank Allah."
Collis thanked her on Twitter also.
Before marriage
Collis said he converted to Islam in 2011 "before marrying Hoda", according to the Guardian. Few people knew about his conversion to Islam before the spread of the picture.
Collis was one of 19,000 British citizens who performed Haj this year, following the trip by celebrating Eid al-Adha. Around two million people performed Haj this year.
Collis has been stationed in Riyadh since 2015. The British foreign minister commented to the Guardian by saying that this is Collis's private life and that it has nothing to do with his job, at which point the embassy in Riyadh followed suit and said the same thing.