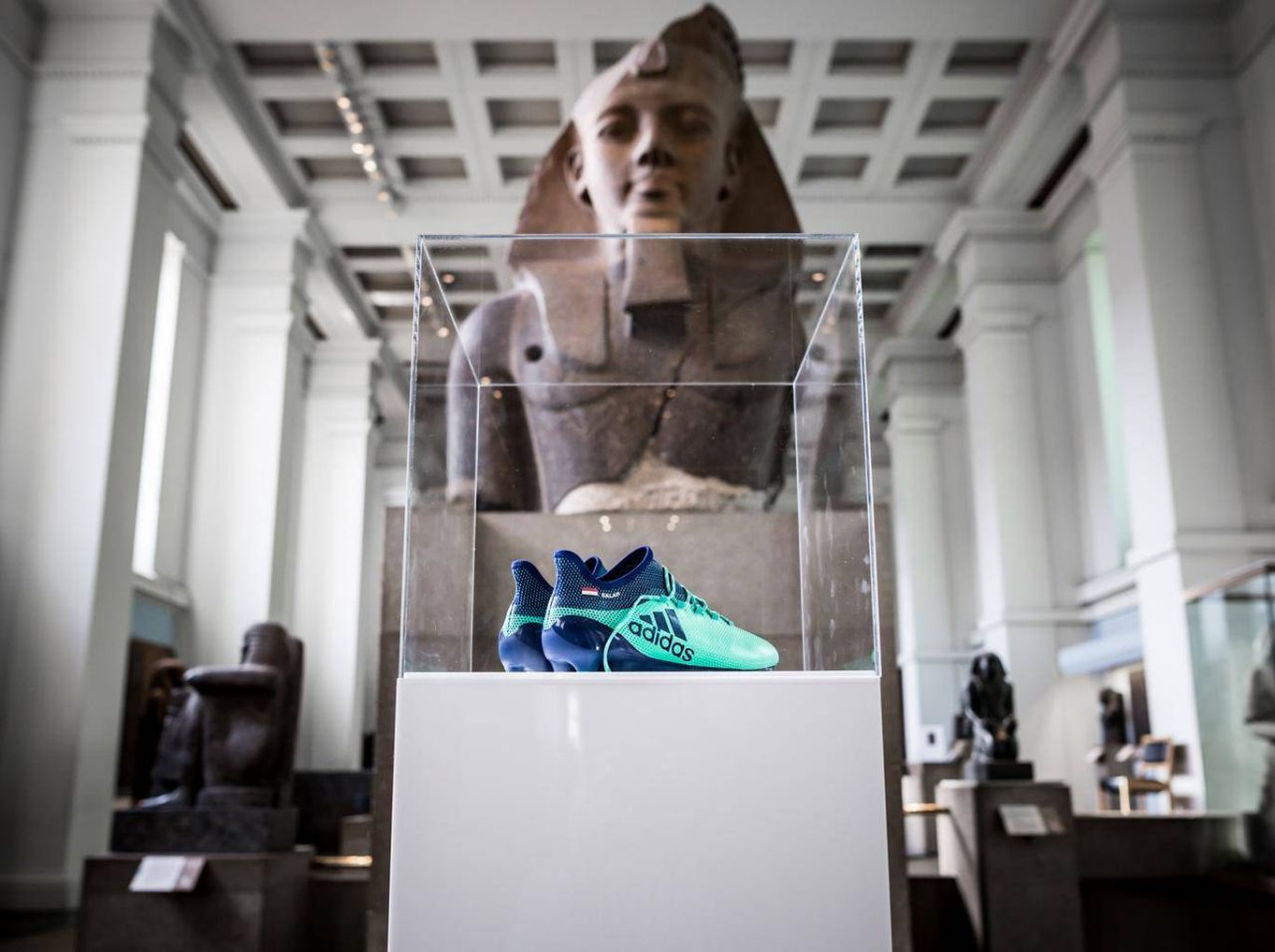 The British Museum in London put on display Mo Salah's mint green football boots as part of its exhibition "Modern Egypt's Exhibition", a trial exhibition that was launched in 2016 and aims to display different Egyptian pieces that together tell the story of the evolution of Egyptian society.
The decision to display Salah's boots within the collection came following Liverpool forward won the prestigious Premier League Golden Boot award as well as the Premier League Player of the Season title after a sensational debut season.
Neil Spencer, curator of the Egyptian and Sudanese artefacts of the museum, addressed the choice to display the boot through the museum's official twitter account tweeting, "this shoe tells the story of a modern Egyptian icon. Someone who plays in England but has a global effect. It fits within our current project to tell stories of the contemporary Egyptian life between the 20th and the 21st centuries."
The "Modern Egypt Exhibition" aims to describe the relationship between Egyptians and exhibits in contemporary Egypt. Under the supervision of architect Mohamed al-Shahid, the project was launched two years ago on a smaller scale, where it displayed several objects in a small plaza downtown London including razor blades, cigarette boxes, old radio devices, post boxes and some editions of newspapers and magazines.
This time, however, the project will display much more notable pieces such as a sewing device that was manufactured in Egyptian  military factories in the 50s and 60s, in an attempt to highlight the notable societal changes during this period.
The British Museum has the largest Egyptian antiquities collection in the world outside the Egyptian Museum, with over 100,000 pieces in display. The section has been founded along with the museum in 1753. It includes seven display galleries which contain pieces from almost every period and every important site in the history of Egypt.
Salah has had an amazing season with Liverpool, scoring 32 goals in a 38-match Premier League season, in addition to earning several awards including Top Scorer of the Top Five Leagues as well as Liverpool's Player of the Season Award.