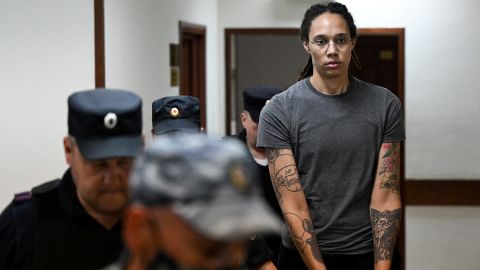 Brittney Griner is set to appeal her verdict in Russian court Tuesday, nearly three months after the US basketball star was convicted of smuggling drugs into the country and sentenced to nine years in prison.
Griner's appeal will be considered in the Moscow Regional Court in a hearing at which her attorneys are expected to argue the verdict was unfair and unjustified under Russian law, they told CNN. Griner, 32, will attend the hearing via video conference from her detention center.
The outcome of the appeal is expected the same day as the hearing, according to the lawyers, Alexander Boykov of the Moscow Legal Center and Maria Blagovolina, a partner at Rybalkin, Gortsunyan, Dyakin and Partners law firm. The court hearing the appeal can choose to leave Griner's verdict in place, overrule it and send it back to the lower court, or reduce Griner's prison term, they said.
If the Khimki city court's decision is upheld, the "legal process will be basically over," Boykov said. In the meantime, Griner, a two-time US Olympic gold medalist, is concerned she will have to serve out the remainder of her sentence in Russia if her appeal is unsuccessful and if the United States and Russia can't strike a deal for a prisoner swap, he said.
Both attorneys have indicated they felt Griner's nine-year sentence was extreme, with Blagovolina calling it "very severe for this type of crime and this amount of this substance."