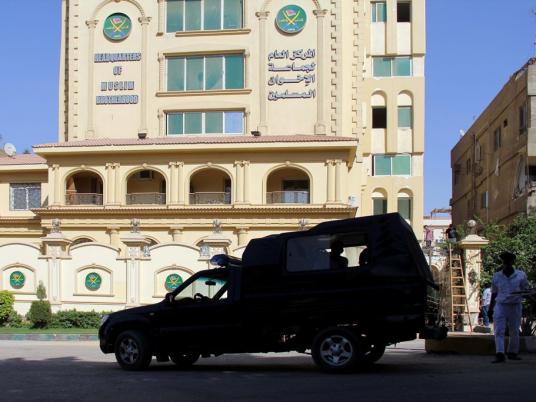 The Muslim Brotherhood called on the Armed Forces to secure its headquarters in Moqattam, and the Muslim Brotherhood formed committees along with Salafi youth to protect headquarters in governorates from attacks, a member said Tuesday.
Brotherhood Shura Council member Sayed al-Nozaily said the Guidance Bureau told Brotherhood youth to secure the headquarters nationwide, and Supreme Guide Mohamed Badie asked that the Armed Forces protect the Moqattam headquarters from attacks.
Yehia al-Shebainy, the head of the Islamic Sharia Application Coalition, which includes 30 political parties and movements, said that Salafi sheikhs asked the youth to help the Brotherhood secure its offices and the offices of the Freedom and Justice Party.
The Brotherhood and FJP also instructed youth to stage protests outside mosques and main squares nationwide Tuesday to show support for the constitutional declaration Morsy issued last week.
The group announced a massive demonstration in support of Morsy's decisions outside Cairo University on Friday, instead of holding a protest on Tuesday when anti-constitutional declaration protests were planned for Tahrir Square.
FJP leader Ahmed al-Nahas said pro-declaration protests in governorates would continue on a regular basis, adding that all Islamist forces back the president's decisions in order to achieve retribution and purge state institutions of former regime members.
Protests would be staged in squares in Alexandria to back the president against the obstacles facing him, Nahas said.
Muslim Brotherhood Shura Council member Ali Ezz Eddin said protests outside the FJP headquarters would serve to support the declaration and to protect the headquarters at the same time.
Jamaa al-Islamiya leaders said that protests were postponed after Islamists received information about armed militias preparing to attack protesters to spark a "civil war."
Edited translation from Al-Masry Al-Youm