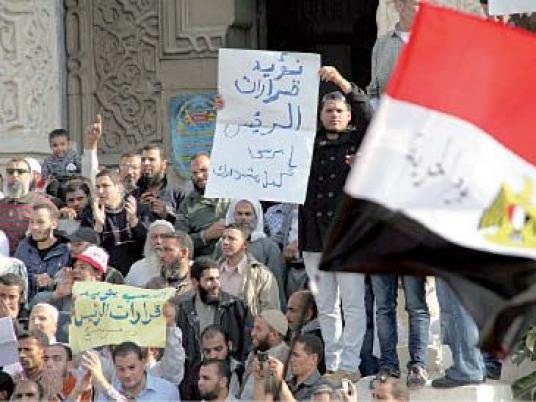 Muslim Brotherhood members have expressed their admiration and support for President Mohammed Morsy during protests at Amr Ebn al-Aas Mosque in Giza on Friday.
The Muslim Brotherhood distributed leaflets entitled "The popular campaign to support the president."
"We love you Morsy," they read.
The leaflet bore other slogans including "We will continue our work" and "Let's build our country," celebrating Morsy's perceived achievements in increasing wheat production, improving the quality of bread and raising pensions.
The Muslim Brotherhood had called for mass protests Friday for the Syrian conflict.
Hundreds of Brotherhood and Salafi-oriented Rayah Party protesters chanted for President Mohamed Morsy to allow Egyptians to fight jihad against the Bashar al-Assad regime in Syria.
"The people want to apply God's Sharia," protesters chanted.
Egypt's Rayah Party, founded by former presidential hopeful Hazem Salah Abou Ismail, distributed leaflets expressing solidarity with the Syrian people.
Edited translation from Al-Masry Al-Youm