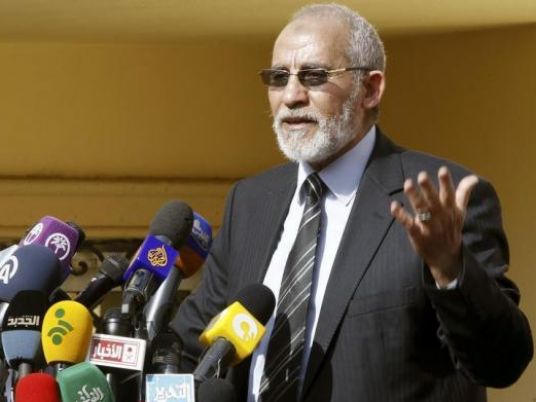 Prosecutor General Hisham Barakat referred Mohamed Badie, supreme guide of the Muslim Brotherhood, and 13 other Brotherhood leaders to the Criminal Court on charges of inciting the killing of demonstrators in the Istiqama Mosque events in Giza Square, during which 29 people were killed and wounded.
The other referred leaders were: Mohamed al-Beltagy, Essam al-Erian, Safwat Higazi, Husseini Antar, Bassem Ouda, Mohamed Gomaa Hassan, and Essam Ragab Rashwan, all of whom are locked up. Fugitive leaders Assem Abdel Magid, Ezzat Gouda, Anwar Shaltout, Azab Mostafa, Abdel Razzaq Mahmoud and Mohamed Ali Talha were also referred.
Prosecutors claim that the first eight defendants had masterminded riots on 22 July with the purpose of committing crimes of murder, sabotage and destruction, while the others took part in the riots and killed 10 people in alleged premeditated murder.
Edited translation from Al-Masry Al-Youm