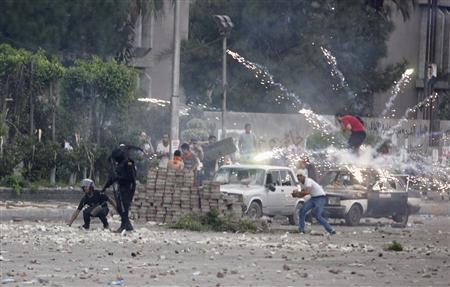 Two different accounts were provided of the clashes that broke out early on Saturday and led to the killing of at least 70 supporters of ousted President Mohamed Morsy's supporters in Cairo, according to Muslim Brotherhood figures.
According to the National Alliance for the Support of Legitimacy and Rejection of the Coup, which is led by the Muslim Brotherhood, Rabaa al-Adaweya could not accommodate the millions of protesters who took to the streets who pushed into Nasr Road, near Al-Azhar University. Security forces, protected by the Armed Forces, fired tear gas at the protesters and then snipers on the roofs of Al-Azhar University fired birdshot and live fire at the protesters.
The clashes continued until 2:30 am, causing large numbers of victims to fall and the field hospital was no longer able to accomodate more casualties. According to the Brotherhood, the number of victims is likely to rise in light of the policies exercised by the perpetrators of the brutal coup who disregard human rights.
The Brotherhood says more victims are likely after "the leader of the coup asked for an authorisation to kill peaceful protesters and the Interior Minister said he has plans to break up the pro-Morsy sit-in using legal means."
The statement said that more than 100 people were killed and 3,000 more injured in the clashes.
The Interior Ministry provided a different account in a statement broadcast on Egyptian television.
"The Brotherhood did not want the day to pass peacefully and sought to spoil it in several governorates, most notably in Cairo and Alexandria," the statement said.
"In a deliberate ploy to escalate the crisis, protesters marched from Rabaa al-Adaweya onto the 6th October Bridge to block traffic," the statement said.
The protesters set tires on fire and clashed with residents of Mansheya and used firearms and birdshot, killing 21 people and injuring many others.
Security forces sought to open the way to traffic and used tear gas to break up the protest.
The Interior Ministry said that it only used tear gas during the clashes, which led to the injury of 14 policemen and 37 conscripts, many of whom were hit by live fire and birdshot.