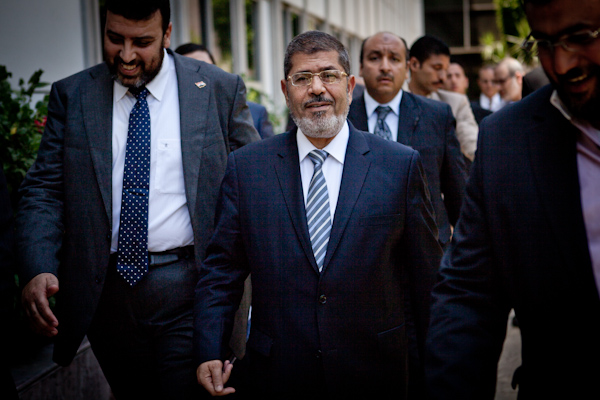 The legal committee of President-elect Mohamed Morsy's campaign is attempting to negotiate where he should be sworn in, now that Parliament has been disbanded.
The alternatives are the Shura Council or the Supreme Constitutional Court. Another possibility is for Morsy to wait for the Administrative Court to challenge the ruling that dissolved Parliament.
"Morsy will decide on this issue," said Freedom and Justice Party Vice President Essam al-Erian.
For his part, Muslim Brotherhood lawyer Abdel Moneim Abdel Maqsoud said Parliament is the only legal body that was elected by the people. "It still exists according to our leaders," he said. "We await the decision of the Administrative Court on Tuesday."
"The Shura Council is also a body elected by the people, but it is not mentioned in the Constitutional Declaration," Maqsoud added. He denied that Morsy would be sworn in at Tahrir Square.
"The party leaders insist on Parliament," said Brotherhood legal advisor Mokhtar al-Ashry.
Ahmed Abdul Rahman, member of the Muslim Brotherhood's Guidance Bureau, said that "the consultations are still ongoing with all political forces. We will stay in the [Tahrir] Square until the Parliament is reinstated and the president is sworn in before it, or until he is sworn in before the elected Shura Council."
The supplement to the Constitutional Declaration, which SCAF issued last week, stipulates that the elected president be sworn in before the judges of the Supreme Constitutional Court.
Members of the Muslim Brotherhood, the FJP and revolutionary groups protested throughout the past week demanding the annulment of the supplement to the Constitutional Declaration, which they say cuts short the powers of the new president.
Edited translation from Al-Masry Al-Youm