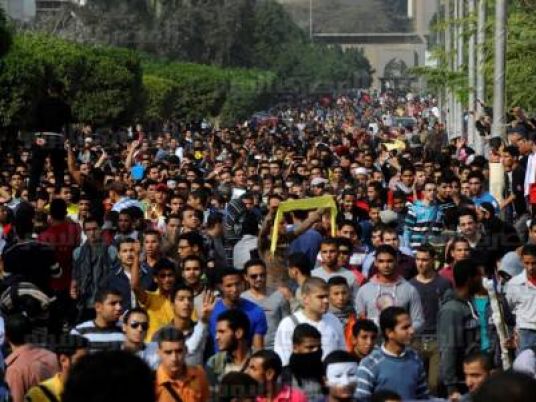 An informed source from Cairo University has denied news that security troops broke into the university campus to follow Muslim Brotherhood students after dispersing their protest outside the campus.
Troops located on Nahda Square dispersed the Brotherhood march outside the campus using teargas bombs, after the students hurled Molotovs at security forces.
Administrative security imposed strict security measures and closed gates of the university's administrative building, after students tried to break into the university's main administrative office.
The clashes left one student killed, dozens injured including photojournalists from Youm7 newspaper and Sada al-Balad website.
In related news, Interior Ministry's information center said on Monday that 200 Brotherhood students were noticed by security while attacking the administrative security personnel, breaking into the main gate of the university and firing bird shots and Molotovs at police in al-Masalla Square.
In a statement, the center said police used teargas canisters to return them back to the university. Six rioters were arrested. They were then found to be Brotherhood students of Al-Azhar University and high school students. They were allegedly in possession of Molotovs and fireworks.
It added that security forces were notified by Al-Azhar University branch in Zagazig that 500 students affiliated to the Muslim Brotherhood gathered outside the university administrative building and chanted angry slogans. Troops were able to disperse the students and arrest four rioters.
Earlier on Monday, Brotherhood students at Al-Azhar University in Nasr City shot fireworks on campus during a demonstration on Monday to keep security forces away from a photo exhibition of their colleagues who were arrested in previous protests.
They also marched around the Faculty of Agriculture, flashed the Rabaa sign, chanted slogans against the army and the police and demanded the release of their colleagues.
They then entered the Faculty of Commerce building and disrupted classes.
Meanwhile, in the university's Daqahliya branch, Brotherhood students staged protests condemning what they called a military coup, demanding the return of President Mohamed Morsy and rejecting the candidacy of Field Marshal Abdel Fattah al-Sisi in the presidential elections.
Residents around campus threw stones at the protesting students.
At Zagazig University, security forces were notified about gathering of 50 students in front of the dean's office of the Faculty of Islamic Studies, allegedly attempting to break into it. Security were also able to disperse the rally.
Edited translation from Al-Masry Al-Youm