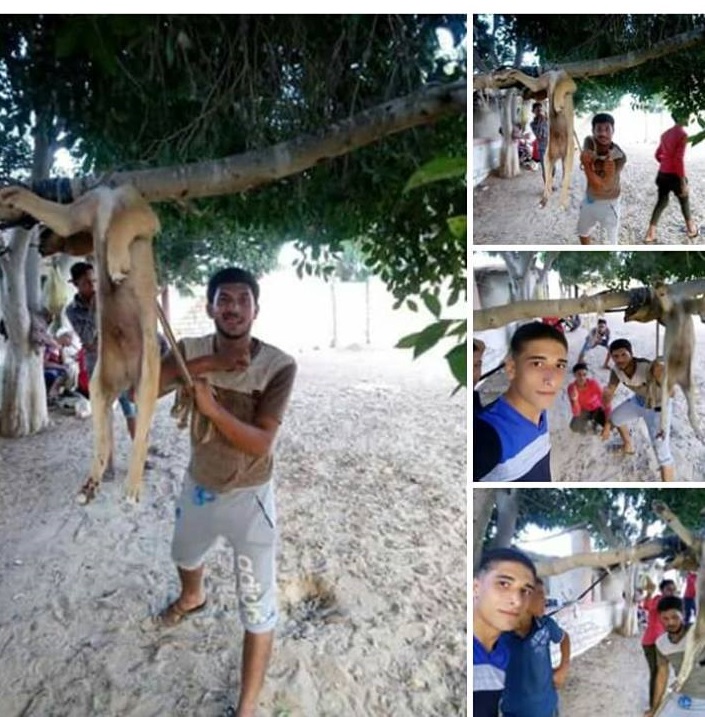 A video has gone viral on social media showing brutal footage of a group of men in Egypt hanging a still-living dog off a tree, laughing while the cameramen suggests "tightening the grip."
The 21-minute long video also shows a man along with a young child pulling the dog tightly with a long rope.
Posted to the Facebook group "Save An Innocent Animal Soul", the video reached thousands of views with outraged users demanding that the men in the video be punished severely.
Two of the men responsible, Ahmed Shehata and his friend Abobakr al-Sherif, posted various more photos and claimed the dog was rabid. This wasn't enough to quell the fury against them, and they quickly shut down their Facebook accounts.
A similar story was covered by the DMC channel, showing a photograph of a man attempting to hang a dog with some long rope and laughing.
Earlier this month, gruesome images of four dogs tied together and burnt to death in Cairo's Shubra district caused outrage across social media, with demands calling for a swift investigation to find the perpetrators and better laws be made against animal cruelty.
Egyptian footballer Ahmed "mido" Hossam wrote on his twitter account that the Egyptian parliament needed to issue new laws against targeted anyone who commits such merciless acts of animal abuse.
Animal rights activist Dina Zulfakar said that the state must confront violence against animals through new methods, as this is now a widespread phenomena. She urged for better education and curricula in schools and universities to raise students awareness of  animal welfare and how to better deal with them.
Zulfakar pointed to the important role the media has in covering animal-related issues, adding that the media is interested in presenting the issue but not what to do about the cruelty.