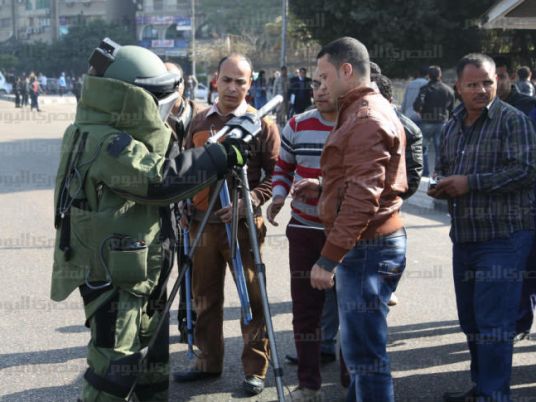 Egyptian bomb disposal expert Diaa Fathy had long predicted he would die in a flash, before that fateful day in January when a bomb exploded on a busy road leading to the pyramids.
Fathy's death, captured in graphic video footage that went viral on the Internet, was not the first among the country's bomb disposal squad, which has defended its training programme in the face of questions over its professionalism.
On January 6, the 30-year-old police captain was blown up as he tried to defuse a bomb hidden in a flower pot outside a petrol station in Cairo's Al-Haram street.
The small rudimentary bombs that regularly go off in Cairo bear no comparison to those used in strife-torn countries like Iraq, Afghanistan or Pakistan that cause massive civilian casualties.
But they still pose a challenge for bomb squads.
"A bomb is a double-edged weapon. The one who dismantles it has to be better trained than the bomb-maker," an explosives expert who works in the Middle East told AFP on condition of anonymity.
"I don't think Egypt has well-trained bomb disposal experts… Even standard operating practises have not percolated down the cadre," causing casualties, he said.
Jihadist group Ajnad Misr claims it has killed four bomb disposal experts so far in Cairo, including Fathy.
It says its attacks are in retaliation for a government crackdown targeting supporters of ousted Islamist president Mohamed Morsi, who was toppled by the military in July 2013.
– Need for overhaul –
The deadliest bombs in Cairo have targeted police, including outside a presidential palace, the foreign ministry and a university.
At least three policemen have been killed and several wounded in the capital in bomb attacks so far this year.
Fathy was not the first victim from the bomb disposal squad. In June 2014, two officers were blown up while dismantling two bombs near a presidential palace.
A video of one of the attacks shows an officer on the ground trying to defuse the bomb, while another, a general, bends over to watch when the device explodes. The general survived.
Ajnad Misr had warned two days earlier that it had planted bombs near the palace.
The incident showed the "need for a complete overhaul in the mentality of the squad, the way it thinks, the way it functions," a security adviser for a foreign embassy in Cairo said.
Defending his team, bomb squad chief General Mohamed Gamal insists his men are well-trained, including in the use of robots to defuse explosives.
"The rule is that the officer is not supposed to touch the bomb," said Gamal.
"He should be at a distance of a metre-and-a-half (five feet) from the explosive. Anything other than that is a personal choice."
Fathy's mother, Nagat al-Gafi, said her son would say a prayer before starting work and always used his hands to defuse bombs.
"He always said he would die at the snap of a finger," Gafi told AFP at the family home, where the entire top floor has been converted into a museum in his memory, displaying his uniforms, childhood photographs and posters of him with the words: "Groom of Heaven".
– Many false alarms –
Gamal acknowledged his men might sometimes take potential threats lightly as they respond to a dozen calls a day from the public reporting "suspicious objects," many of them false alarms.
Captain Mohamed, a disposal expert, said he faces death every day in North Sinai, an insurgent stronghold where he has been based for 11 years.
"On a daily basis, we get at least 10 calls and some are negative. I try to deal with the negative calls as if they were positive," said Mohamed, who gave only his first name for security reasons.
An Egyptian affiliate of the Islamic State jihadist group is spearheading an insurgency in North Sinai that has killed scores of security personnel.
"From the number of calls I've dealt with, I can predict what will happen," said Mohamed, who was in Cairo for training on the use of protective wear.