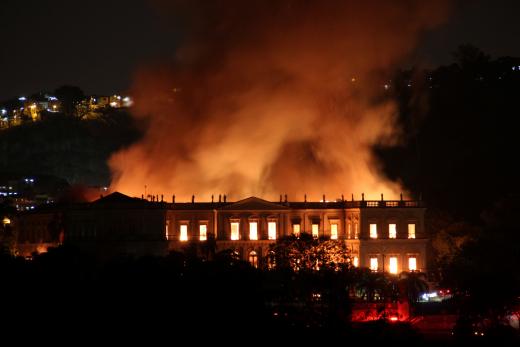 The National Committee for Antiquities Recovery met on Friday to discuss the situation regarding Egyptian artifacts at the Rio de Janeiro National Museum of Brazil, feared damaged in the recent fire earlier this month.
The meeting was held at the headquarters of the Ministry of Antiquities in Zamalek, and was headed by Khaled al-Anany, Minister of Antiquities, with the membership of Ambassador Heba al-Marassi, representative of the Egyptian Foreign Ministry, Archaeologist Zahi Hawass and representatives of the State Lawsuits Authority, the Public Prosecutor's Office and other concerned authorities in the State.
The committee dispatched an expert archaeologist from Egypt to visit the museum in Brazil and inspect the Egyptian items there as soon as Brazilian authorities would permit.
Egypt's Consul General in Rio de Janeiro has also asked to visit the museum to inspect the Egyptian pieces and check their condition after the fire.
More than 700 Egyptian historical artifacts face an uncertain fate after the huge fire that destroyed the National Museum of Brazil in Rio de Janeiro on September 3.
Egypt's Antiquities Ministry contacted the Foreign Ministry to provide it with a detailed and urgent report on the situation of the Egyptian artifacts in the museum after the terrible fire that left total devastation.
The museum included about 20 million artifacts, feared all but lost.
Most of the Egyptian artifacts entered the museum in batches. The first was in 1826, after leaving Egypt from the Theban Necropolis, Karnak Temple. The batch was then put in an auction in Rio de Janeiro, where Portuguese emperor Pedro I bought the entire collection and donated it to the museum.
One of the most important pharaonic objects in the museum is a rare sarcophagus containing the mummy of Sha-Amun-on-Su, a singer priestess from the Late Period of ancient Egypt. Emperor Pedro II had received it as a gift from Khedive Ismail during his journey to Egypt in 1876.
Other notable artifacts include three Amun priest coffins from the Late Period and the Third Intermediate Period of Ancient Egypt, six human mummies (four adults and two children) and a number of mummies and coffins for cats, fish and crocodiles.
Edited translation from Al-Masry Al-Youm