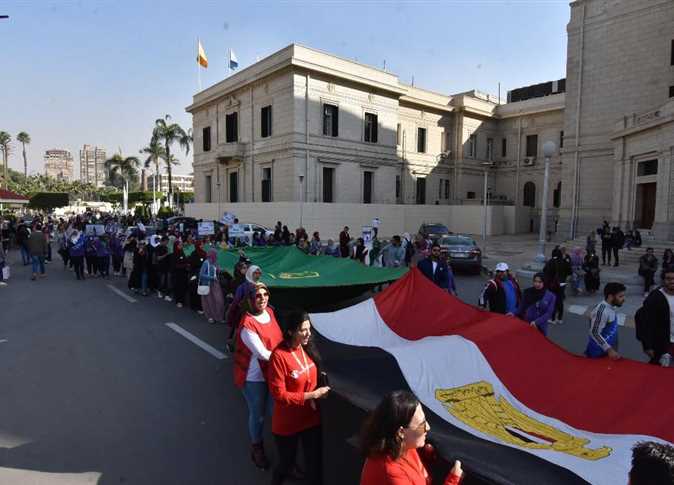 The Anti-Harassment and Combating Violence Against Women Unit at Cairo University organized a march on Saturday, featuring the participation of unit members, professors, students, civil society representatives, members of the UN Women's Committee and the National Council for Women (NCW), as part of the international 16 Days of Activism Against Gender-Based Violence" campaign.
The march started at the university's dome and toured the university. Participants in the march held banners reading "Safe University for all." The university also organized exhibitions of pictures and drawings to combat violence against women, seminars in faculties, theater and artistic performances and seminars to educate students inside and outside the campus.
A stage was set up at the Faculty of Commerce for an interactive performance for students, and art shows against harassment and violence against women. The Faculty of Agriculture launched a competition among students to design the best anti-harassment logo, and a seminar was held at the Faculty of Nursing regarding the effects of harassment.
Cairo University President Mohamed Othman al-Khosht said that the university has a message for combating violence against women. This message aims for young people, and the students of the university in particular, to raise awareness on the values of equality and the protection for women through a range of activities that support this message.
He praised the role of the anti-harassment unit in promoting a culture of respect and equality among students and its activities and initiatives in this field.
The unit manager Maha al-Saeed said that the participation of Cairo University in the campaign will conclude on Tuesday at the Grand Ballroom in the presence of the University President and representatives of the UN Women and civil society.
Edited translation from Al-Masry Al-Youm