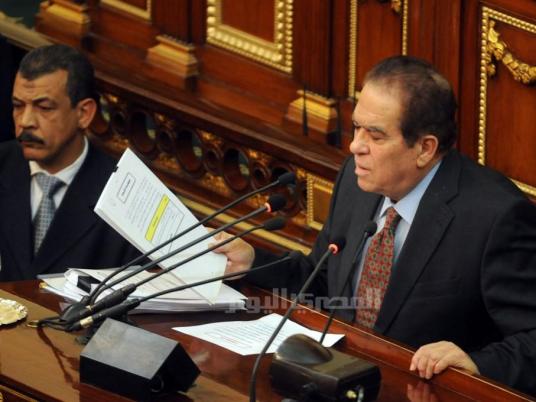 Freedom and Justice Party MPs in the Cairo Governorate have refused to participate in a meeting to be attended by Prime Minister Kamal al-Ganzouri on Sunday, to show their disapproval of the cabinet's performance, policies and plans.
State-owned newspaper Al-Ahram said the MPs released a statement on Saturday saying Cairo's governor invited them to meet with Ganzouri at the cabinet's temporary headquarters. The statement said it would be the first time for Ganzouri to attend a meeting concerning the governorate.
The MPs said Ganzouri wanted to end the impasse between the FJP and the cabinet, show that MPs don't mind dealing with him, and devalue the no-confidence motion that the Muslim Brotherhood is planning to submit this week.
They also said that procedures for the no-confidence motion are ongoing, slowed down due to the political, economic and security crises.
The People's Assembly, which is mainly controlled by FJP members, on Thursday rejected Ganzouri's parliamentary statement of 26 February, which listed the government's achievements since December 2011. The MPs said the statement was weak, failed to address the people's needs, and ignored important issues.
Tension between the Brotherhood and the ruling military council has escalated as the latter reaffirmed its support for Ganzouri's cabinet in the past few days. The Brotherhood is seeking to dismiss the cabinet and form a coalition cabinet to replace it.