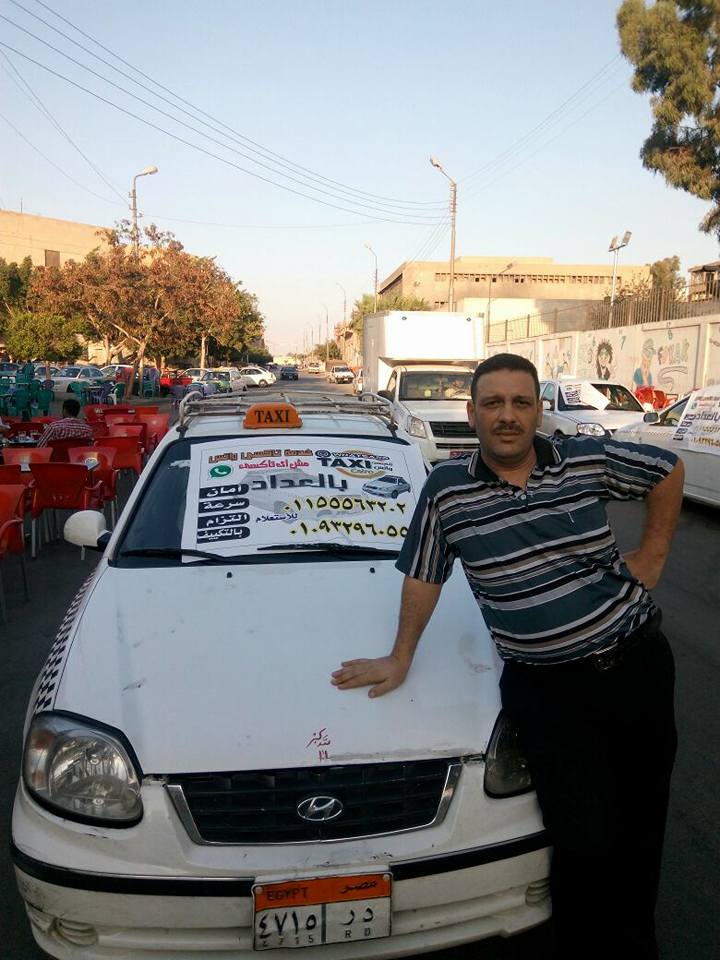 Cairo's white taxi drivers have launched a new initiative to organize services with their clients internally through Whatsapp, mirroring other ride-sharing applications that have taken over Cairo's streets in recent years.
Dubbed, "Taxi Whats," (a common slang expression used among Egyptians referring to the mobile app Whatsapp), the idea relies on the mobile application Whatsapp, for the client to send their address or location at least half an hour before they need a ride. One of the founders of Whatsapp Taxi then receives the message and forwards the trip to the closest driver to the client's location, and forwards the picture of the driver, as well as the car to the client.
Mohamed Abdel Moteleb, 42, one of the founders of the service, holds a bachelor degree in commerce and has worked as a taxi driver for years. He started the project with 25 taxis but has now expanded to reach 120.
"Six months ago, we had about ten to fifteen regular customers. Today we have around 500," Abdel Moteleb said, adding that he vets the taxis and drivers, and makes sure various locations are covered.
He added that drivers who wish to join the service undergo interviews, and car inspections before they are accepted.
After every trip, administrators ask clients to review their experiences, and if there are recurring complaints, the taxi in question is removed from the service.
Abdel Moteleb confirms that all the taxis operating are air-conditioned, clean, and have working meters that drivers must use.
"What I care about the most is for the drivers to abide by their meters, and to be professional with the clients," Abdel Moteleb said.
The drivers' characters are what matters most," he added.
"Our drivers will never ask riders for directions. They will take them to their destination along the best possible route. However, if the rider wants to take a specific route, the driver must comply without questioning," Abdel Moteleb said, adding that most of Cairo's districts are covered such as Haram,  Downtown, Maadi and Heliopolis.
"We even have cars in New Cairo now," he said.
Mahmoud Hamed, a 37-year-old accountant tried the Whatsapp Taxi service for the first time two weeks ago.
"They are very professional, and the driver followed the meter count," Hamed said, adding that he'll be using the service again.
Apps like San Francisco-based Uber and the UAE-based Careem have been seen as a threat to Egypt's white taxis businesses.
Over 50,000 drivers in Egypt work for Uber, and the company invested LE250 million in the service in country last year. Careem operates with a similar-sized workforce.
The threat led to a number of clashes between regular taxi drivers and Uber and Careem drivers.
In May, taxi drivers protested by cutting off main roads in Cairo streets, with some of them filing lawsuits against Uber and Careem.
Ali Abdallah, who has been a taxi driver for years, joined WhatsApp Taxi to make ends meet after financial hardships he faced after ride sharing apps entered Egypt.
"I lost thousands of pounds since they came in. It's getting better now after I joined Whatsapp Taxi, but things are still very hard." Abdallah said.
The founders are still uncertain about Whatsapp Taxi's future. They currently operate remotely though Abdel Moteleb says that they will continue their operations for another six month to evaluate expansion plans.
"If we reach more than 1000 drivers, and more clients start ordering, we may even develop a mobile application, but for now we have to hope for the best and exert out utmost effort and we'll see how things go," Abdel Moteleb said.
You can try out WhatsApp Taxi by calling 01155563202 /01093296055, or you can check out their Facebook group for more info.