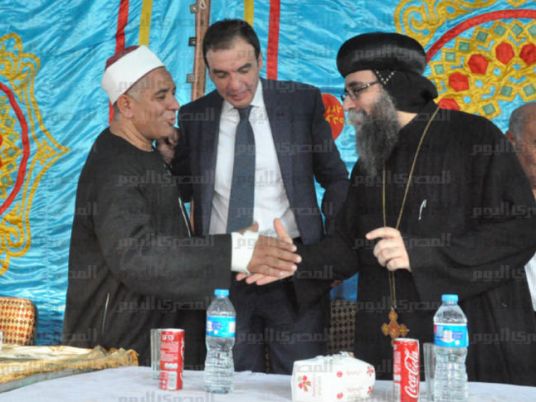 Calm was restored to a village in Beni Suef yesterday after clashes broke out Friday between Muslims and Christian over alleged illegal church-building.
Mobs in Saft al-Kharsa village, on the outskirts of Fashn town, attacked a building under construction on Friday afternoon after a rumor went round that it was to be an unlicensed church. The attack led to the destruction a Christian man's house and a car.
Police have arrested 18 suspects over the incident, and the prosecutor's office in Beni Suef ordered for them to be detained pending investigations. Security forces have cordoned off 15 Christian houses to prevent further clashes.
Head of Beni Suef Security Directorate, Major General Mahmoud Ashery, said that what happened in the village was a regular quarrel between citizens and cannot be described as sectarian strife.
"A Coptic man was building a house, and Muslims thought he was building a church without a license," he stated to al-Masry al-Youm.
He added that Fashn City Council has suspended construction on the building pending verification of the correct building permits.
He strongly forbade anyone from attempting to ignite sedition between Muslims and Copts in the village, affirming that citizens of the two religions have lived in peace and harmony for decades.
Since the January 25 uprising in 2011, Egypt has witnessed many incidents of sectarian violence, often in rural areas of the country. Construction of churches and conversions by Muslims and Christians to either faith are among the most common triggers.